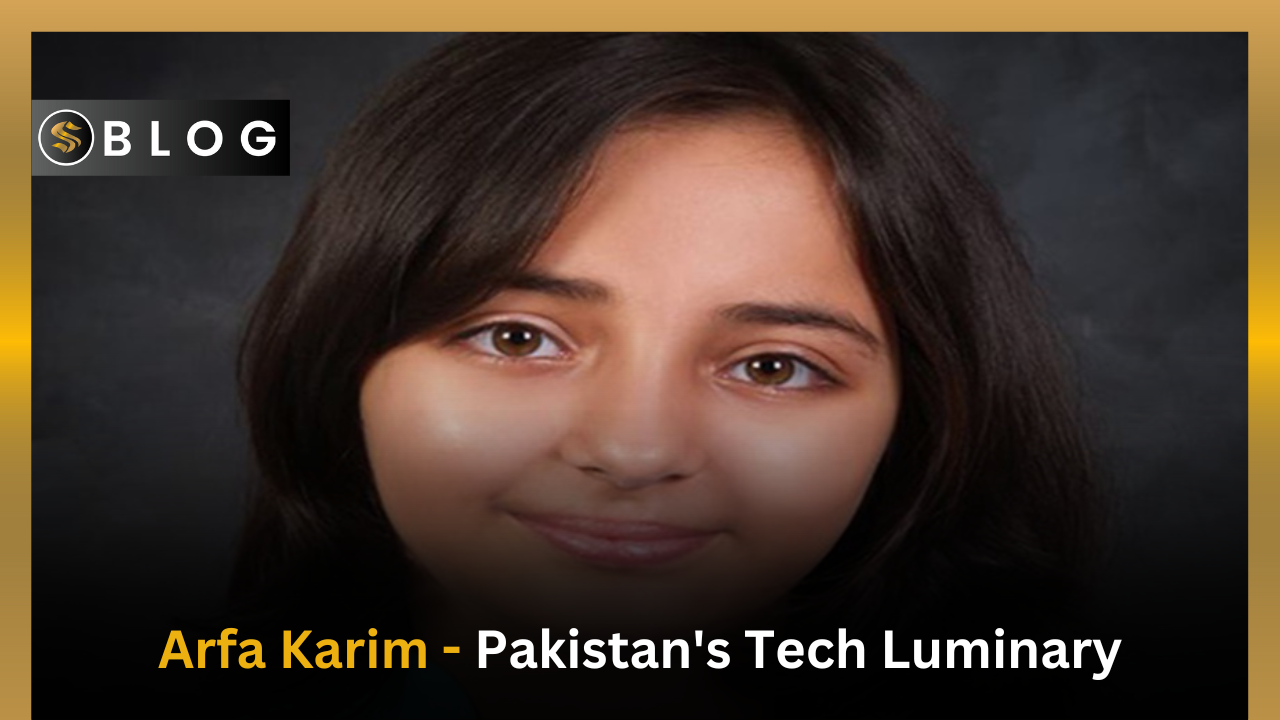 Share This Story, Choose Your Platform!
Arfa Karim: Pakistan's Tech Prodigy Honored by Sapphire Builders and Associates
Arfa Karim's journey with technology was nothing short of extraordinary. From the bustling streets of Faisalabad, Pakistan, she emerged as a global tech prodigy, setting an example for young enthusiasts worldwide.
A Peek into Her Early Life
Born on February 2, 1995, in Faisalabad, Arfa showed an affinity for technology from a very young age. Most children at the age of 3 are still getting to grips with their surroundings, but Arfa was already exploring the digital world using computers. This early exposure led her to delve into coding by the age of 5.
Milestone Achievements and Recognition
The tech world sat up and took notice when, in 2004, Arfa became the youngest Microsoft Certified Professional (MCP) globally at the mere age of 9. This was not just a personal achievement; it was a moment of pride for Pakistan.
Her genius didn't go unnoticed. Tech giant Bill Gates invited her to Microsoft's U.S. headquarters. Such was her prowess that she was the only Pakistani invited to the Developer conference in Barcelona in 2006.
Notable Contributions
But Arfa wasn't just about personal milestones. She believed in channeling her skills for the greater good:
– Developed a software application for student assistance in math homework.
– Joined the Lahore Grammar School's robotics team, showcasing her multi-faceted tech talents.
The Pakistani government, recognizing her unparalleled contributions, honored her with the prestigious Presidential Pride of Performance award in 2005.
Vision for Pakistan
Arfa's dreams weren't limited to personal growth. She envisioned a future where Pakistan would stand as a digital hub. Her endeavors, both in software and hardware, showcased her commitment to this dream.
An Inspiration for Many
Arfa's achievements and passion made her a role model for young individuals, not just in Pakistan, but around the world. She epitomized the belief that age is just a number and that passion and dedication can overcome any barrier.
A Life Cut Short
Tragedy struck when the world lost this shining star. On January 14, 2012, at just 16, Arfa Karim passed away from a cardiac arrest. But while her life was short-lived, her legacy remains immortal.
An Iconic Inspiration Meets Architectural Marvels
As we reflect upon the indomitable spirit of Arfa Karim, a symbol of passion and potential, we're reminded of the limitless possibilities that reside within each of us. Her journey, while short, has been a beacon of hope, inspiring countless across the globe to chase their dreams without hesitation.
In the same spirit of passion and excellence, Sapphire Builders and Associates emerged as a paragon in the realm of real estate and construction in Rawalpindi and Islamabad. With their commitment to delivering unparalleled luxury, they invite you to delve deeper into their two standout projects:
Oak Vista:
Positioned in Murree's heart, a prime tourist attraction, Oak Vista is more than a residence – it's an immersive experience. The juxtaposition of nature's pristine beauty with cutting-edge amenities promises residents an unrivaled luxury lifestyle. With vistas spanning the scenic Murree Valley, it's touted as Pakistan's prime property hotspot.
Opal Mall & Luxury Suites

:

Bahria Town, Islamabad, is set to witness an architectural marvel with the rise of Opal Mall. Envisioned by Sapphire Builders and Associates, this high-rise is not only the tallest in Bahria Town Phase 1 to 6 but also the epitome of luxurious living in Islamabad. Situated in the Paradise Commercial Complex, the future business hub, it stands as a testament to innovation and elegance.

Sapphire Builders and Associates, while pushing the boundaries of architectural excellence, also honors trailblazers like Arfa Karim. Her legacy, rich in inspiration across numerous fields, serves as a timely reminder of the power of relentless passion and unwavering determination.
Conclusion
Both Arfa's resounding legacy and Sapphire Builders' architectural innovations serve as a testament to human potential and excellence. If Arfa's journey inspires you, let Sapphire's projects be the canvas for your next dream. Dive deeper and explore more by heading over to our dedicated .