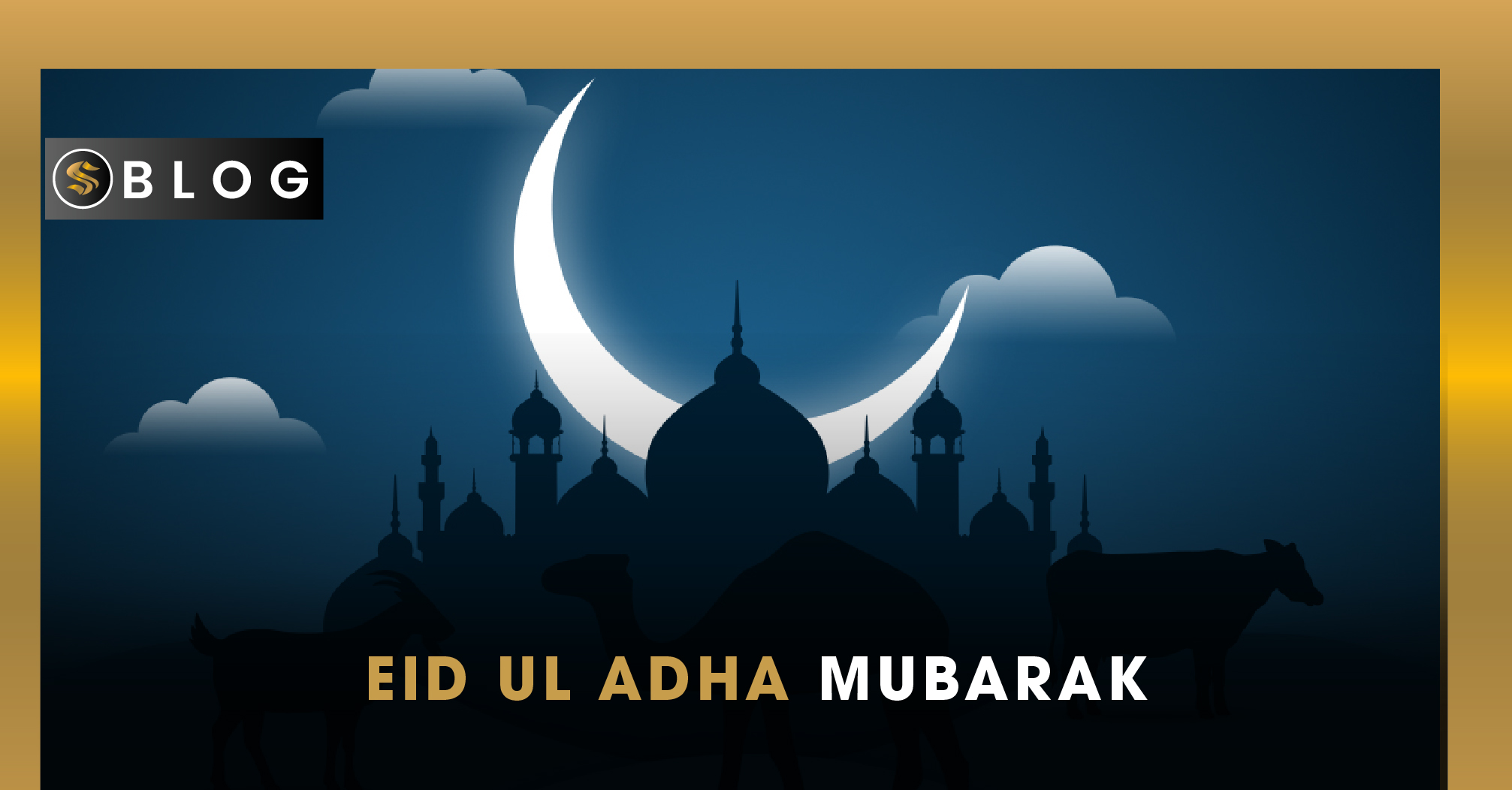 Eid-ul-Adha is a sacred religious festival observed by Muslims all around the world and it falls on the tenth Zil Hajj – the twelfth month of the Islamic calendar. Muslims observe this day to memorialize the oblation by the Prophet Ibrahim (AS) on the command of Allah Almighty. It is celebrated to appreciate the bravery of Prophet Ibrahim (AS) and Prophet Ismail (AS) and animals like goats, cows, and camels are slaughtered on three days of Eid.
The very first day is commenced with Eid prayers followed by the sacrifice of animals and the meat of these animals is commanded to be divided into three portions. One portion is dedicated to the poor while the other is distributed amongst relatives and acquaintances. One of the three portions is kept to be used by the family itself. It is forbidden to accumulate all the meat on your own.
It is an occasion of festivity as it brings the Muslim community together and creates an atmosphere of love and companionship irrespective of color, race, and class. Sacrifices (Qurbani) are done in all corners of the country! In houses, streets, grounds, and slaughterhouses.
The festivity of Eid around the globe is the same but every country has different traditions and cultures to celebrate religious holidays.
Celebration in Pakistan
Eid is celebrated in Pakistan passionately. From kids to elders everyone participates and cherishes the holidays in different ways according to local cultures and traditions. A lot of hassle also comes with Eid. Bari Eid in Pakistan is incomplete without the tantrums of tailors and Butchers. Finding a butcher for ritual is not less than winning a lottery. Tailors not stitching clothes in time and their elusions is another fear that Pakistanis have to face and so much more. These are said to be the obligatory crisis every Pakistani household has to see. Or else you will miss the pure essence of celebrating Bari Eid in Pakistan.
Let's dive into details of joyful challenges faced by most of us on Bakra Eid, each year.
Huge Family Get-to-Gathers
Managing work and personal life in this contemporary world are extremely tiring. In such swamped routines, family Get-to-gathers has become an enormous challenge, which has adverse effects on the upbringing of a new generation.
Eid holidays are a blessing in chaos. With four and five days of official holidays, families are able to visit their hometowns. It brings everyone under one roof. Families organize vast dinners with their beloved ones. The joy and essence of Eid warm the coldest hearts. Sharing meat and arranging barbecues and feasts together brings an aura of affection and affiliation. It also keeps the youngsters close to our religious and social values.
With no doubt, we can say that Pakistanis adore extravagant meals. And what can be a better occasion than Eid-ul-Adha to enjoy and fulfill that longing. Dishes like Barbeque, Karahi, Namkeen Gosht, Mutton Biryani, Beef Nihari, Hareesa, Haleem, and the list goes on and on with the UNIQUE touch of cooking tastes and recipes of Bhahbis, Behnas, Phuppos, Khalas and the most special and delicious blissful hand of AMMI JAN.
The above Bakra Eid delights to make us even more enthusiastic to celebrate with zeal and zest.
Another factor, on such holidays, is that people visit their loved ones who have left the world. Kids and males always make sure to pay them a visit to graveyards and make prayer for them.
Bakra-Mandi Adventures
Who said that we only celebrate Eid for a day?  Pakistanis are not only excited about holidays but they love the adventures of visiting mandi with their friends and family. Kids and males of every age are interested to know about animals. Asking the vendor about animals' prices or their age and talking over a cup of tea despite the weather, are the favorite hobbies of youngsters and elders alike.
Every plan made near Eid is followed by "Chalo mandi chaltay hain" without any intention of buying. It is a logic that none other than men understand.
From random visits to actual buying of animals followed by flexing of animals and telling others that "Mehnga le lia janwar ap ny", taking them for strolls, adornments, staying with them all night, and getting attached to their animals. It turns the adventure into an emotional rollercoaster. From buying to sacrificing them from their own hands is sad yet a beautiful feel.
It is the true spirit of ritual to develop affection with animals as it truly depicts the sacrifice.
Quest for Butchers
It is a huge task to find a butcher on Eid-ul-Azha. With their high demand, the rates are also pretty high, yet their availability despite confirmations and advance payments is always questionable. Handling their grumpiness and fulfilling all orders and instructions they pass to convince them to do your sacrifice in time is a whole mission.
The bookings start months before the actual day. But fear dangles in people's minds all the time. And when the Qasai does not pick up your phone that's when panic hits you and makes you make endless calls and visits to his shop. And surprisingly you will not be alone, whoever you ask, they will be venting. Qasai tricks everyone and holds them on wait.
Such dramatic behavior of Qasai mostly makes males of the family irritated and discouraged and they end up doing the ritual on their own. But Bari eid is nothing without a little shade of drama.
Bearing The Tantrums of Tailors
We all know that it is Sunnah to wear new clothes and in Pakistan how can you spend eid without the tension of tailors. Literally, everyone has or has been the victim of tailors. With them not completing dresses on time or stitching them wrong.
If men bear tantrums of Qasais, tailors are no less for Women. With their grumpiness, lame excuses, and false promises. Every woman has to hear these typical lines "Baaji kaal mil jaye gy kapray Insha Allah" and that tomorrow never really comes.
Making silly excuses and exaggerations like "Baaji light aie he nahi kal se" or "fotgi ho gye c Baji" the list of excuses remains the same almost every year with few trendy changes. Even on the day of Eid, you will see the sight of people queuing outside darzi ki dukaan, and sometimes you are a part of it.
And worst of all, when a tailor does not stick to what you tell them to, that is a different type of heartbreak and with that broken heart, you wear your old clothes and put on a plastered smile.
These are some of the events that are more like a culture now in Pakistan before and on Eid days. Ensuing with the sight of blood everywhere, malodorous streets with animal remains, jam-packed freezers with meat, storing meat for weeks, men wearing old torn clothes for Qurbani, arguing over the donation of animal skins, heated political discussions, kids crying for the slaughtered animals, little girls taking Eidi, women cooking endless meals, girls getting all dolled up and applying mehndi which makes whole house whiff like mehndi, eid shopping sprees, eid Milan and tikka parties. They are no doubt hectic events but these are things that fulfill the real emotions of eid in Pakistan. Age is not a factor in enjoying eid with a joyful heart. You will not see any gloomy face. It is a blessing for the ones who perform and whom they share with. A day that fades away all kinds of barriers of inequality and differences. Praying under one roof is a sight for sore eyes. Eid does not feel like eid without a dash of mayhem.