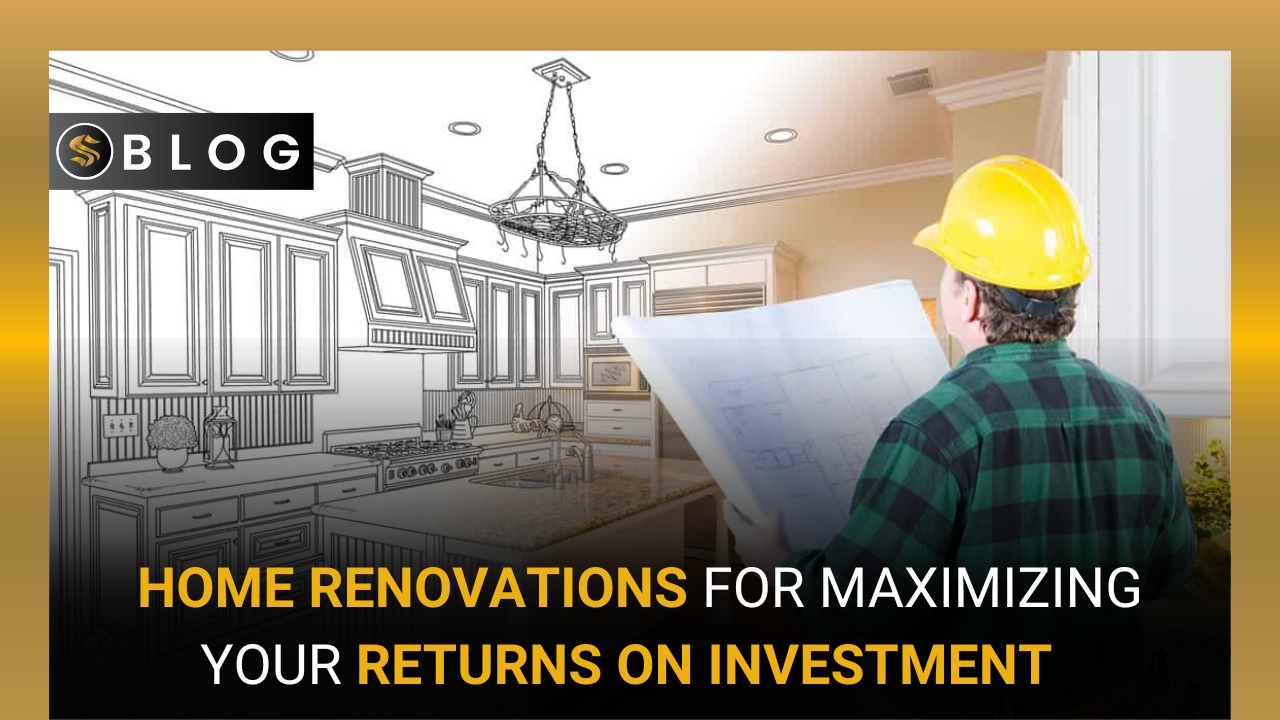 Share This Story, Choose Your Platform!
7 Home Renovations that Will Get You the Best RoI at Closing Table
Homes are the places where we spend the maximum time of our lives, so everyone desires it to be modern, aesthetic, and comfortable. When starting a home renovation project, it is crucial to consider the Return-on-Investment (RoI). Studies indicate that specific renovations can yield significant returns when selling a house. Thankfully, there are numerous cost-effective approaches to renovate your home, and this article will outline seven home renovations that have the potential to provide a favorable ROI during the selling process.
The highest RoI for home improvements aligns with bathroom remodeling. Rather than tackling multiple rooms with small projects, focusing on a minor bathroom remodel can be more advantageous. There's no need to renovate the entire space, but giving each bathroom a refreshed appearance can make a significant impact.
You can consider replacing the shower head with a rain shower, as it is a desirable feature for the most potential buyers. Additionally, updating the vanity is recommended, as no one wants to feel like they are using an outdated bathroom belonging to someone else. Simultaneously, upgrading the lighting to create a brighter ambiance is worth considering.
Kitchen renovations can potentially increase the RoI for home improvement projects without completely demolishing the entire room. Rather than undertaking major changes, focus on making minor upgrades that can have a significant impact.
Begin by upgrading the current appliances with superior, more modern ones. Instead of replacing the cabinets altogether, consider refinishing the existing ones. Applying a fresh coat of paint or gloss can give the old cabinets a new appearance, and when combined with new hardware, it can revitalize the kitchen's look completely.
If feasible, consider removing a wall to create a more open and spacious kitchen area. Prospective buyers often prefer kitchens with ample space for both cooking and hosting. Removing an unnecessary wall that separates the kitchen from the rest of the house is often considered one of the most beneficial actions homeowners can take.
Work on Interior Lighting
Enhancing the interior lighting in your home is a crucial step toward maximizing the space's potential. By upgrading the lighting fixtures, you can direct higher wattage towards specific areas like kitchen counters and dining room tables while maintaining softer, ambient lighting in other parts of the house to create distinct atmospheres within each room.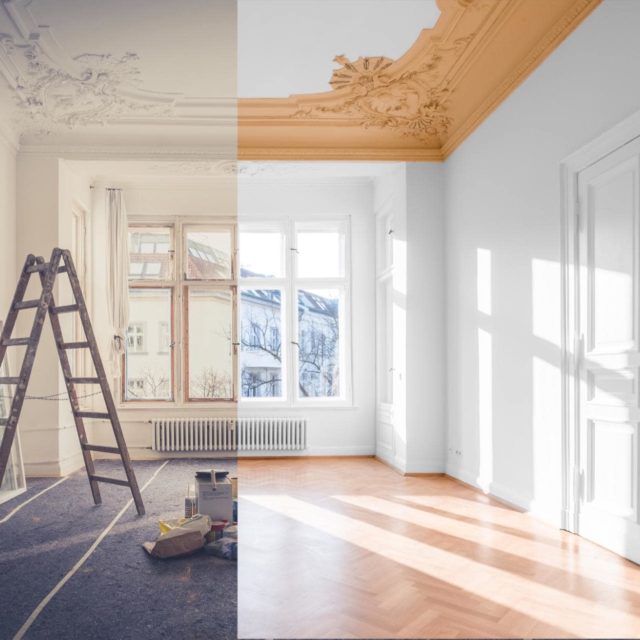 If certain spots require additional illumination, such as an entryway or a distant corner, installing wall sconces can effectively provide extra light while adding a visually appealing design element. Additionally, strategically positioned recessed cans ensure that every corner receives adequate illumination, guaranteeing sufficient brightness throughout your home, regardless of location.
Upgrade Flooring and Cabinets
Give your home a transformative makeover by upgrading your flooring and cabinets. Revamping your floors and cabinets can significantly impact any room's overall appearance and ambiance. Whether you desire a contemporary update or want to replace outdated materials, various options are available to suit your preferences and budget while home renovation.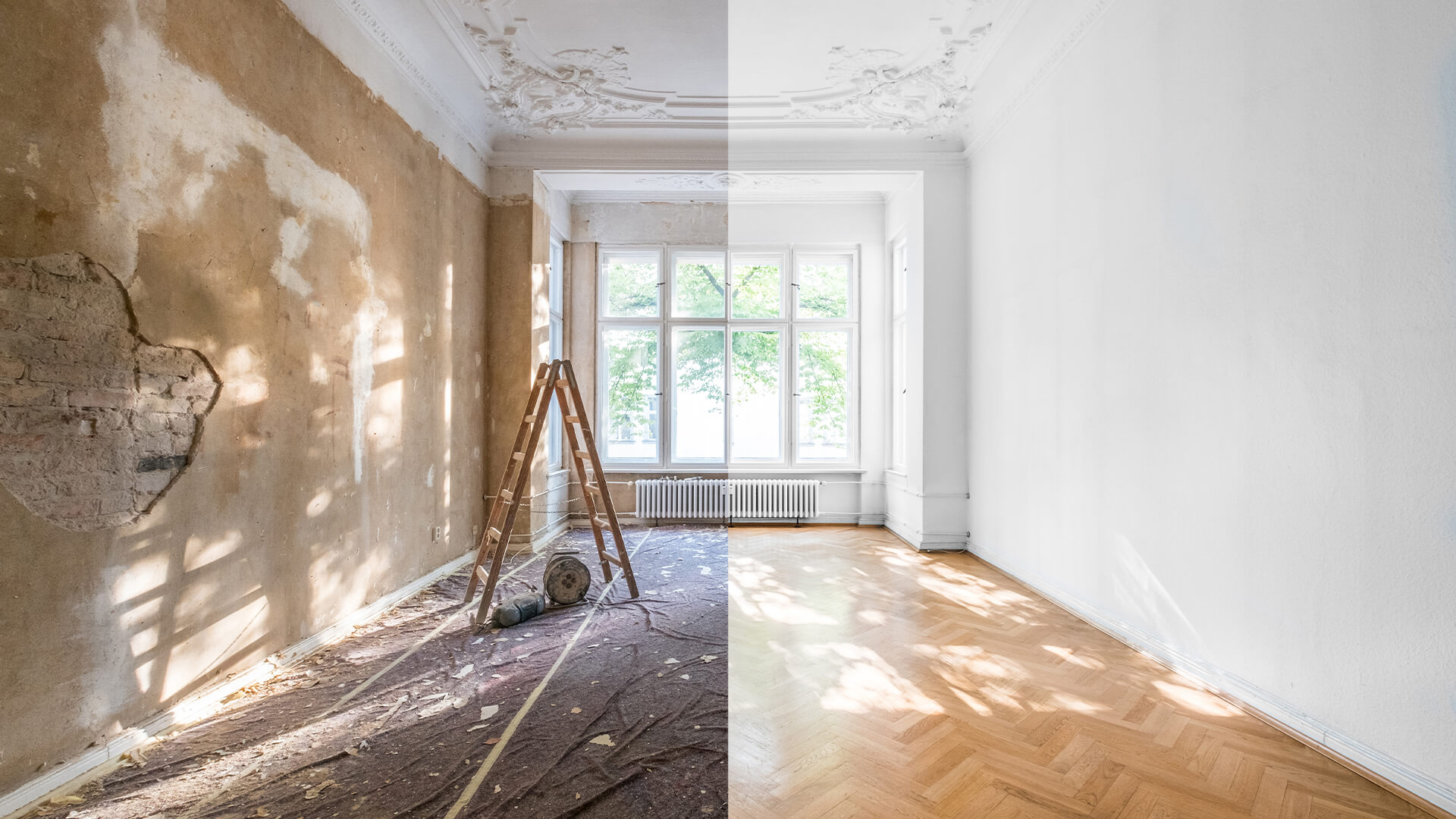 Modern tile designs and engineered wood surfaces can enhance the aesthetics of your space, complementing even the most minimalist decor. Additionally, custom-designed cabinetry can introduce both character and functionality to any area. Whether you choose to start a DIY project or seek assistance from a professional, upgrading your flooring and cabinets will bring a distinctive charm to your home.
Install New Windows and Doors
Installing new windows and doors may appear daunting while home renovation, but the outcome is highly rewarding. Not only can it lead to energy cost savings, but it can also enhance the overall value and modernize the appearance of your home.
Some factors must be considered to ensure you acquire high-quality windows and doors that cater to your specific requirements.
Conduct thorough research by reading reviews before purchasing any materials
Accurately measure the spaces in advance
Verify that any subcontractors you hire are licensed professionals
By investing a little extra effort from the outset, you'll be able to relish the benefits of having stunning, brand-new windows and doors that will last for many years to come.
Decorating your home with an outdoor living area provides an excellent opportunity to make the best of your yard. The growing popularity of these spaces stems from their ability to cater to various needs, such as entertaining guests, spending quality time with loved ones, and enjoying the warmth of the sun in your backyard.
Several options are available to suit diverse budgets and aesthetic preferences. Incorporating an outdoor living space will enhance your property's value and create a captivating new area for your family to enjoy quality time.
Among the various home renovation options, the entry door replacement stands out as a relatively straightforward yet highly influential upgrade. The entry door is often one of the initial features that potential buyers observe. It allows homeowners to create a positive and lasting first impression.
It's important to note that prospective buyers typically make their decision within the first few minutes of viewing a property. Therefore, homeowners should prioritize enhancing the appeal and presenting their homes in the best possible light to leave a favorable impact on potential buyers.
End Note for Home Renovation
To sum up, there are numerous methods to enhance the value of your home. You can start with simple improvements, such as enhancing interior lighting and creating outdoor living spaces. For more extensive projects, consider installing new windows and doors or remodeling the kitchen and bathrooms.
These endeavors may require an initial investment of time and money, but they can potentially yield substantial long-term savings. It's crucial to carefully consider the actions you can take to boost your home's value today, ensuring that it will continue to provide even greater benefits in the future.
Sapphire Builders & Associates (SBAA) is an esteemed name in the real estate sector. It has three trademark projects under its name, i.e., Opal Mall & Luxury Suites, Omega Mall, and Oak Vista Luxury Service Apartments. These projects offer completely renovated apartments that will certainly meet your aesthetic taste and comfort level. Sapphire Builders also provides customization option to its clients. You can make use of this option to satisfy your inner artist.