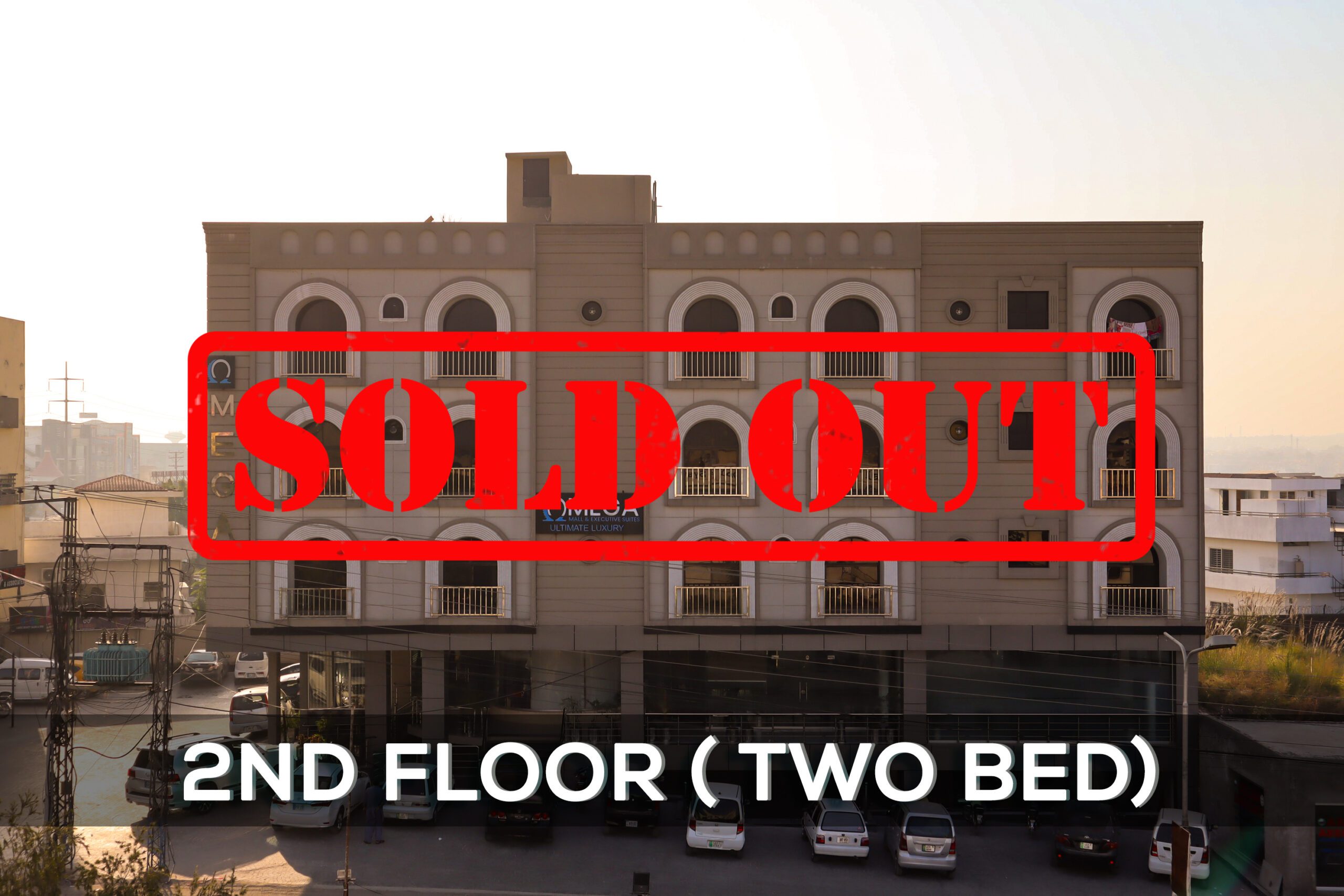 Share This Story, Choose Your Platform!
| Size | Price | Apartment no | Status |
| --- | --- | --- | --- |
| 853 sq. ft. | PKR 87,00,000 | 206 | Sold out |
Looking for a suitable, cozy place for you and your family?
Sapphire Builders & Associates brings you a glorious project, Omega Mall and Executive Suites, to put an end to your search!
Let's delve right into the article to know the titbits of this project.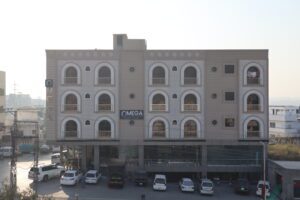 Plot # 414, Street # B-1, Sector 0.9, Block B, Police Foundation, Islamabad
Description of Omega Mall
Omega Mall & Executive Suites is located near Police Foundation, PWD. It offers state of the art office space, 1 mega store, and luxury suites including one and two bed apartments, designed to meet the modern living standards and completely at par with high-end living standards which has been built over an area of 2 Kanal (30,000 sq. ft.).
The mall has the benefit of a prime location with easy accessibility to life facilitating services. Omega Mall and Executive Suites is a number one choice as its building is not only attractive and appealing from the outside, but it is also an embodiment of luxury and comfort for its inhabitants. This is an ideal place for living with a magnificent view from the balcony. The apartments are constructed with modern technology and efficiency, emitting the sense of homely comfort.
Omega Mall & Executive Suites covers a total area of 2 Kanal and offers a front parking space for 40 vehicles. From the 1st to 3rd Floor, there are exquisite residential apartments with a pleasing view. In total Omega comprises of 3 offices and 27 apartments. Each of the three floors is based on an area of 4339 sq. ft.
Vicinity of the Executive Suites
The suites are surrounded by all the amenities that are responsible for facilitating life. From well-known educational institutes including schools and universities for your children to a wide range of various treat worthy eatery places nearby, from top local clothing brands to internationally established brands, from health care facilities for you and your family members to quality health services for your pets as well, from gadgets stores to car repairing shops, all of these conveniences are available in the vicinity. Besides all of these, there are a couple of beauty salons with high quality standards and various marts and malls, right beside the building. Thus, enabling you to live life to the fullest with utmost ease and comfort, savoring all the flavors of life in a big city.
Attributes of the Building
The locality of Omega Mall and Executive Suites comprises of functional security measures including guards on duty 24/7 and CCTV cameras that are installed at several angles, providing full coverage to the whole building.
Along with this, there is an expansive parking area for the building, that allows easy access to your vehicles without compromising the security. Furthermore, the building has an efficient elevator and extensive corridors giving an open and airy effect to each of the floors. Likewise, there are some necessary steps that are taken to ensure a friendly neighborhood for you, with an intent to elevate your living experience in Omega.
Apartment No. 206
Sapphire Builders & Associates is pleased to announce that apartment no. 206 is now available for sale. It is a two-bedroom apartment, based on 853 sq. ft. The demand for this apartment is PKR 87,00,000. With exquisite architecture and modern technology, this place is absolutely one of its kind.
Features of the Executive Suite
The apartment door opens into an extensive living room with a wide window, allowing all the natural sunlight to illuminate your whole place in the daytime. Meanwhile in the evenings, there is a breeze of fresh air that builds your connection with the world outside. Similarly, at night, after spending the whole day fighting the demons of the outside world, coming home to the touch of fresh air provides a strange form of tranquility and serenity, making you forget all the worries that the day entailed. It can provide a very wholesome experience for your family because generally living rooms are the place where a family spends most of the time together, bonding and creating lifetime memories with each other.
Expansive Balcony Providing a Wholesome Experience
In addition to this, the attached balcony adds the cherry on the cake. It is the most suitable place to spend your mornings with a cup of tea or coffee before the busyness of the day comes for you. The day can be started out on the balcony, by consuming all the pure waft of nature, the chirpiness of the birds, the first rays of sunshine touching the skin of your face. You can also use the space for doing fun-filled activities with your kids after their school time like exercise, art making, helping them with their homework and so much more. You can also organize activities with your friends and family like barbecue etc. and avail the perks of having an extensive balcony space at your place.
 Spacious Bedrooms with Attached Washrooms
The spacious rooms of the apartment allow you to decorate and customize your space according to your preferences. You can embellish your space with different themes that can complement the sunroom effect of the living room, or you can use color palettes in contrast to enhance the impact of the whole apartment. They can be furnished by modifying different pieces of ornamentation for children and adults both.
With both the rooms, there are attached washrooms that consist of sufficient wardrobe space entailing contemporary style of design. These ornaments are made using modern technology and modest design. The overall impact of the architecture goes extremely well with the wooden work that the apartment entails. Top quality sanitary materials available in the country have been used to enrich the experience of living in an executive suite.
Contemporary and Modern Technology Design
Likewise, the kitchen has specifically been designed in an Italian Style to give your apartment a trimming of modern touch. The cabinets are made with top quality materials to avoid any deterioration or corrosion in the future.
If you're interested in knowing more about this astonishing piece of architecture, then visit our website or give us a call.