Share This Story, Choose Your Platform!
The Capital Development Authority (CDA) will handle the development of 10th Avenue in Islamabad. According to a press statement, the Central Development Working Party (CDWP) has approved the CDA's plan for the construction of 10th Avenue.
Images of the Srinagar Interchange's unique design on 10th Avenue in Islamabad have captured the attention of online users. Though it is not official this may be the first glimpse of the upcoming undertaking.
Project Cost
The Interior Ministry sources claim that M/s NLC has been given the Phase-1 contract, for Rs. 10.286 billion. Although Phase-I of 10th Avenue is only the first five kilometers from IJP Road to Srinagar Highway, but the entire avenue is 8.2 kilometers long.
Out of the $1,480 million of total issued money, Rs1,473.96 million was spent on various items during the fiscal year 2021–2022.
According to the sources, work on 10th Avenue started in March 2022 and will be finished in 21 months. They stated that the project should be finished by the end of 2023.
Efforts of CDA, Islamabad
An important element of Islamabad's Master Plan that had been neglected by earlier CDA administrations, was the construction of 10th Avenue. Development work in Islamabad is finally being accelerated, thanks to the current CDA administration's focus on a comprehensive strategy to improve the city's infrastructure and renovate the neglected residential areas.
The CDA administration has chosen to pursue this program in light of the needs of the city and the challenges faced by its residents. As a result, the development of 10th Avenue will assist the citizens of I-10, H-10, I-9, H-9, G-10, and F-10 and lessen the traffic issues greatly on the 9th Avenue and Faqeer Appi Road.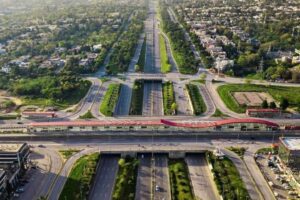 Road Work
In a statement, CDA said that the current CDA Administration has been developing a comprehensive plan to improve Islamabad's infrastructure.
The project aims for the building of an intersection on Kashmir Highway, an interchange at H-9/H-10, an underpass at Margalla Railway Station, an overhead bridge at Margalla Railway Station, as well as the rehabilitation and relocation of slums in H-9. It also has an interchange at IJP Road, a box culvert and nullah bridge, an underpass at the intersection of I-9 and I-10, an underpass on Ibn-e-Sina Road, an underpass at the intersection of G-9 and G-10, and more.
A Hassel to Commuters
Even though Rawal Dam Overhead Bridge was officially opened by Prime Minister Shehbaz Sharif, commuters continue to face difficulties due to the unfinished project.
The project is far from being done, according to Chak Shahzad residents. They emphasized that the completion of the final interchange is still several months away because the construction of the related underpass won't be finished for another few months.