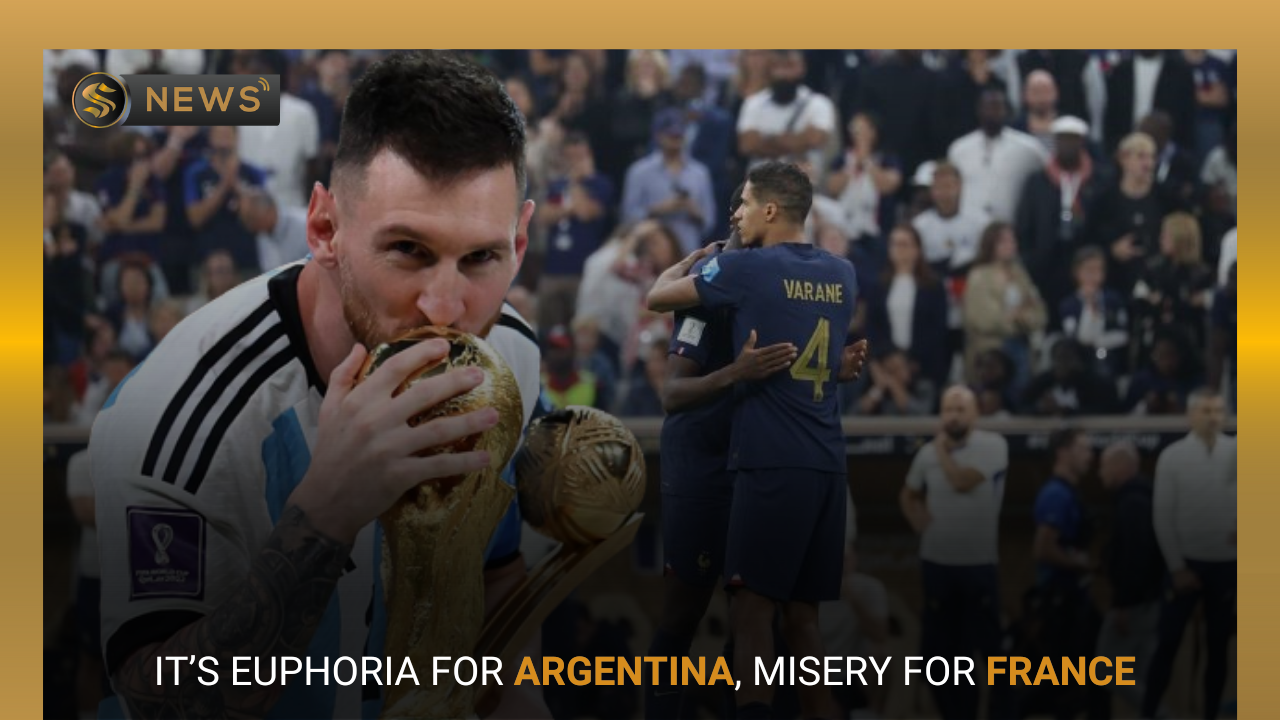 Share This Story, Choose Your Platform!
Tears of Relief and Joy as Messi Lifts FIFA World Cup for Argentina
This Qatari Stadium hosted one of the best FIFA World Cup finals in history, if not the best. i.e. Argentina vs France. They roared into the air. They pumped their fists with joy. They won the finals!
A Nail-Biting Moment
Argentina had been dominating for the entirety of the game before Kylian Mbappe's brilliant equaliser that forced OT (over time). The game grew crazier as chances to win whirled around at both ends. With Messi's late goal in the second overtime period, Argentina appeared to have won the match, but a penalty was awarded just a few seconds later. That was also successfully completed by the flawless Mbappe, who created history by becoming the first player since 1966 to score a hat-trick in a FIFA World Cup final. But Argentina ultimately prevailed in the penalty shootout, and Lionel Messi hoisted the world championship, declaring it to be his final.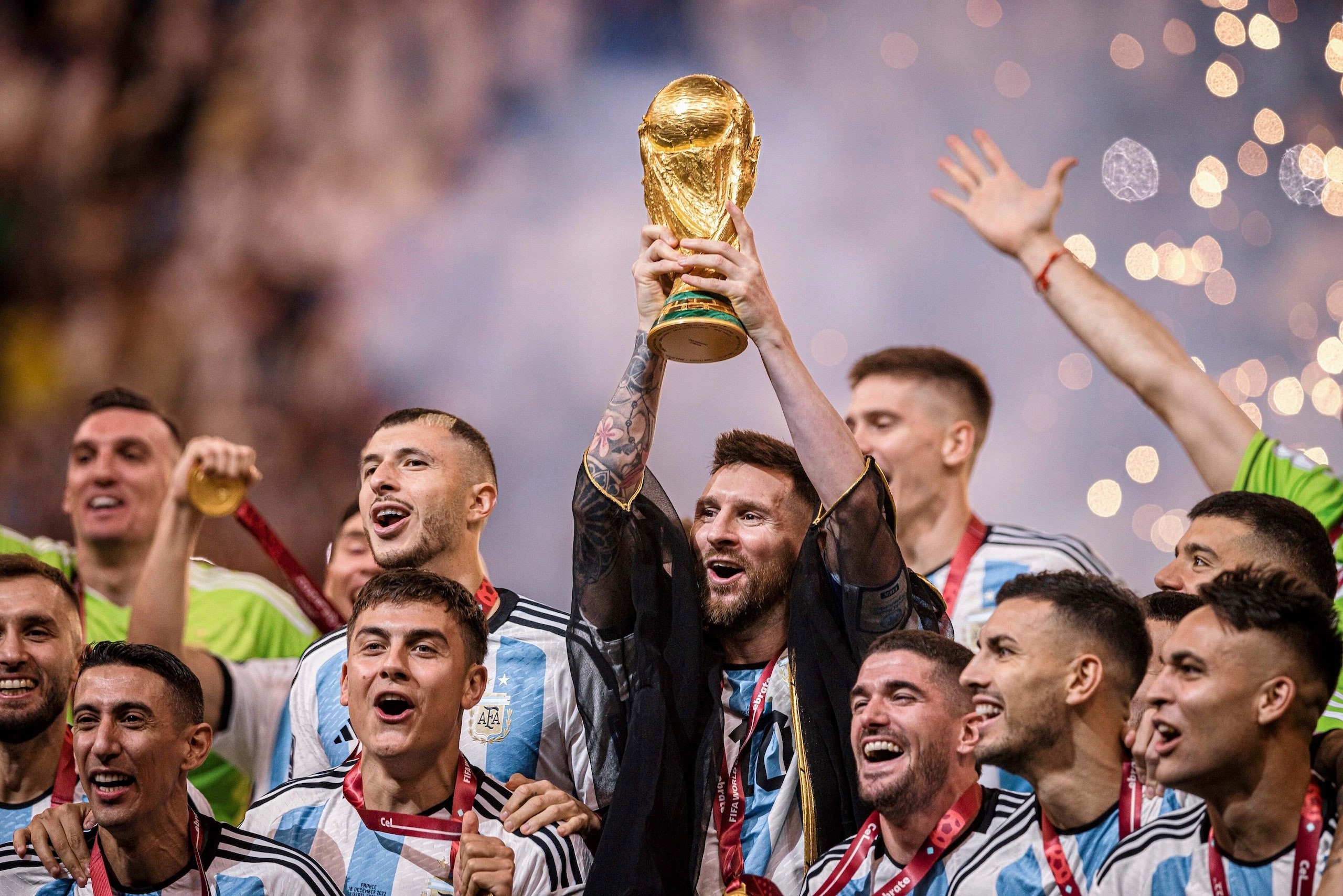 The Highlights from FIFA Final
The game had practically everything, making it possibly the most exciting FIFA World Cup final ever.
Messi's penalty-kick goal in the 23rd minute gave Argentina the advantage and made him the first player to score in each of the four World Cup knock-out rounds. In the 36th minute, they boosted their advantage as winger Angel Di Maria completed an outstanding team play that began in Argentina's half.
Ten minutes or so before the end of regulation, French superstar Kylian Mbappe scored a goal to give La Albiceleste some breathing room. The game entered overtime after Mbappe's second goal, which came less than two minutes later and startled the Argentina supporters.
In the 108th minute, Messi answered with his second goal of the game to make it 3-2 Argentina. However, a handball by Montiel in the box allowed Mbappe to score France's second penalty and pull them even once more.
Emiliano Martinez of Argentina stopped Kingsley Coman's penalty attempt in the shootout, and Aurelien Tchouameni of France also missed his attempt, before Montiel converted Argentina's fourth penalty to win the match.
Lionel Messi- Here's What He Has to Say!
In an Instagram post, Lionel Messi wrote a heart-felt caption, stating: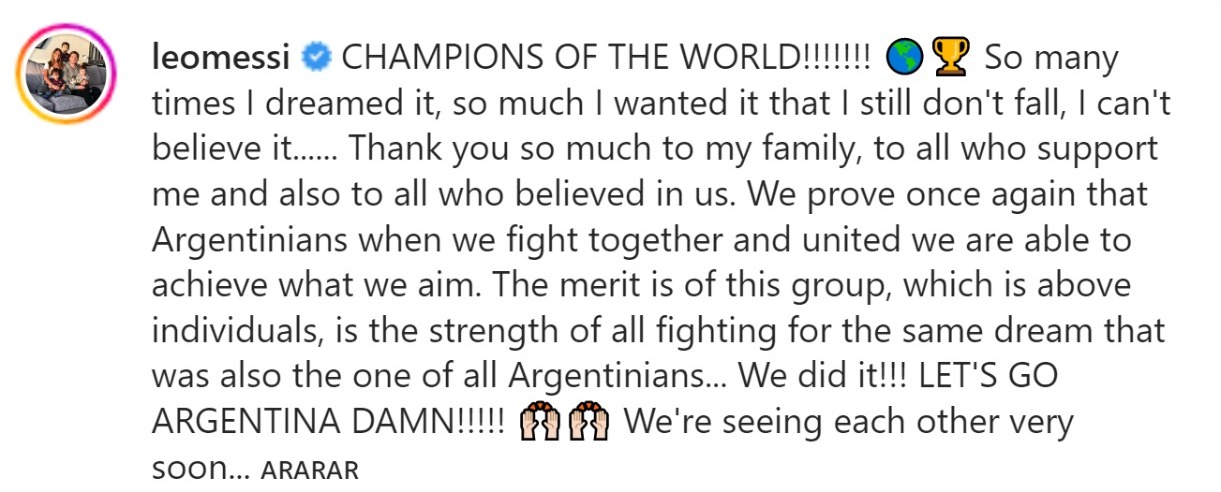 Celebrations In Argentina
Unbelievable celebrations in Buenos Aires, filled with joy and emotions. A well-deserved celebration by Argentinians as they walk out to the streets to celebrate their thrilling victory over France in the FIFA World Cup 2022 championship game.