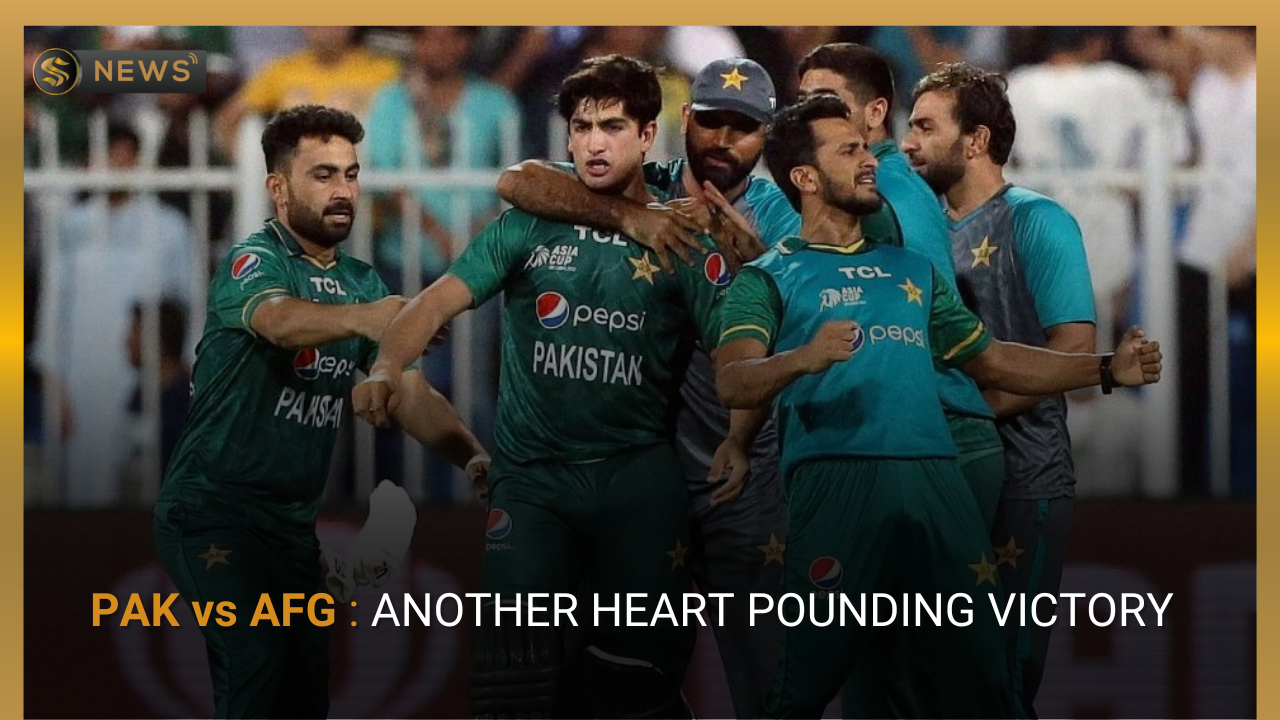 Share This Story, Choose Your Platform!
After knocking out India in the previous match, it was Afghanistan's turn today. It was Naseem Shah again today who did it for the country. In the Asia Cup, no team can do it without giving its audience a tough time. The final over decided a fourth successive game in a row for the Green Shirts. After Pakistan had kept Afghanistan to 129/6, the game appeared to be won, and a Pakistan-Sri Lanka final appeared to be scheduled for Sunday. But there was a twist or rather a series of twists before Pakistan snuck into the final with a one-wicket victory against the stubborn Afghanistan, whose players were inconsolable.
OUTSTANDING PERFORMANCE BY PAK BOWLERS & FALL OF AFGHAN BATTING
Outstanding performance from Team Pakistan, who saw all of its bowlers take wickets, with Haris Rauf taking two of them and frightening the Afghans with his raw pace. Afghanistan made a strong start but was unable to capitalize because it continued losing wickets frequently and never gained momentum. Ibrahim Zadran led all scorers with a 37-ball 35 as the others were unable to get going. Pakistan is favored to shoot down the total and secure a spot in the championship.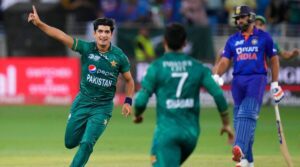 SHAHEENS THRILLING PERFORMANCE
After curbing the opponent team at 129, Shaheens in green shirts took over the Dubai stadium with millions of prayers with them. Although 130 was never a difficult total, Pakistan did not appear to be in action right away. Things began to go in Pakistan's favor after Iftikhar Ahmed and Shadab Khan scored 42 runs after the fourth wicket.
However, after that Partnership was broken, wickets continued to fall frequently. The game started presenting several twists and turns. Hopes were regained after seeing Asif Ali on the ground because cricket lovers were well aware of Asif Ali's ability to hit sixes. But unfortunately, he caught at fine leg and everyone thought that it is now impossible for green shirts to make it to the final.
WINNING MOMENT FEATURING NASEEM SHAH; THE HERO
With nine wickets remaining, Pakistan needed 11 off six deliveries to chase 130 and eliminate both India and Afghanistan from the Asia Cup 2022. Afghanistan made Pakistan work hard while chasing the total. Every ball was crucial till the end. There were mixed emotions, tensed faces, constant prayers, screams, and eyes glued to the screens.  And then it was Naseem Shah in the end, who made sure to win the match. He hit two sixes against two balls in the last over, that no one who watched will be able to forget.
Naseem Shah took off in a furious sprint in the opposite direction. The adrenaline was still rushing as his teammates caught up to him. It took some time and numerous hugs to calm him down when he yanked the helmet from his head and threw it to the ground. This winning moment was indeed a sight for sore eyes. What a match it was, I must say!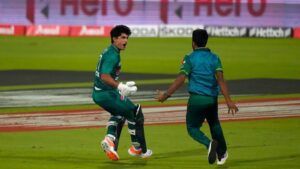 PAKISTAN IS THROUGH TO THE ASIA CUP FINAL
One of the most exciting T20 cricket matches ever played and will always be remembered as the Asia Cup Super-4 Contest between Afghanistan and Pakistan. The match had its ups and downs, but in the end, Pakistan won by a single wicket where Naseem Shah hit two sixes in a row and made its way to the final, knocking India out of the Asia Cup. Pakistan will face Sri Lanka in the final game, on 11th Sep, Saturday at 7.00 pm. Naseem Shah is now the hope for Pakistanis and we hoping the same outstanding performance in final as well.
A GAME OF GENTLEMEN
After the game, some unpleasant scenes were witnesses at the stadium. It was seen in social media videos that some Afghanistan supporters had broken the stadium seats and been throwing them at Pakistani supporters. Indeed, their emotions were valid but this was not the right way to deal with the defeat.
We have always heard that cricket match is not just a game in fact it is an emotion. But at the end of the day, it is still just a game and should be played and watched appropriately in its right spirits. Winning and losing is a part of it. Indulging in violence and damaging property should not be a reaction to either victory or defeat. It is a game of gentlemen, enjoy and let everyone else enjoy it peacefully.
Nonetheless, we wish Team Pakistan the best of Luck for the Final!