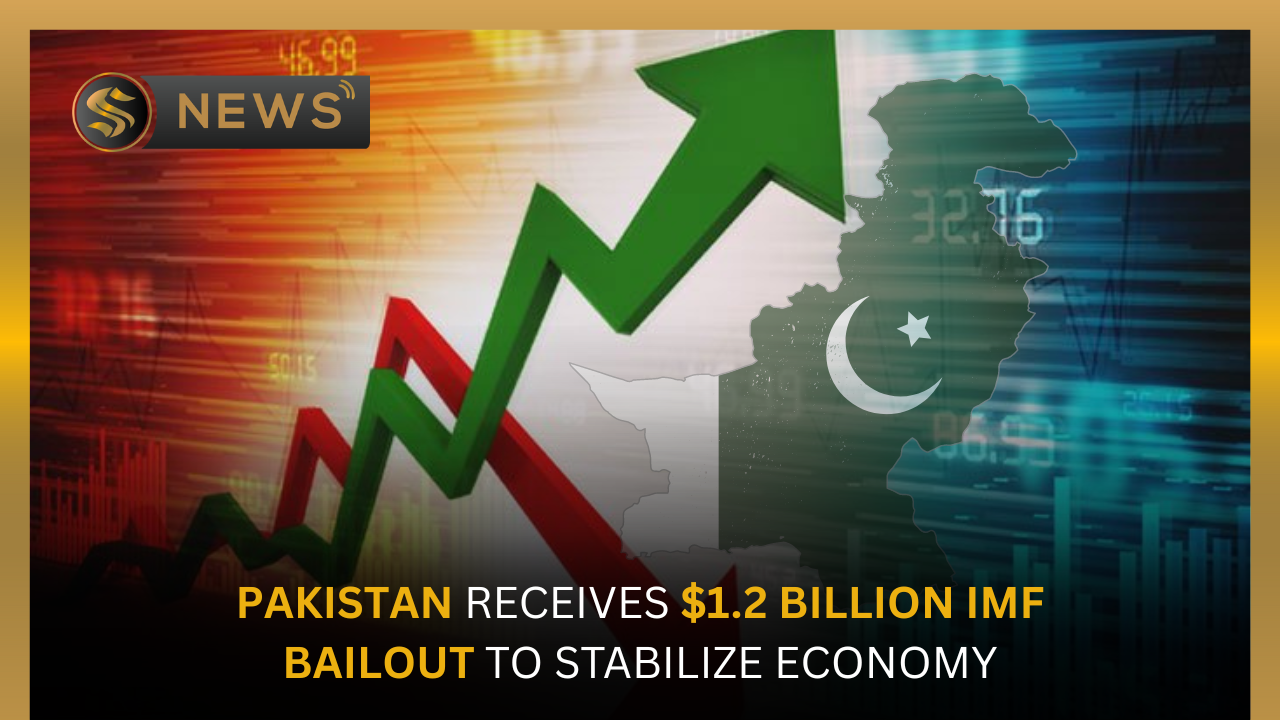 Share This Story, Choose Your Platform!
Pakistan Receives $1.2 Billion IMF Bailout to Stabilize Economy
Pakistan's struggling economy has received a significant boost with the arrival of the first tranche of a $3 billion bailout package from the International Monetary Fund (IMF). The IMF's approval of the package, along with recent financial support from the United Arab Emirates and Saudi Arabia, aims to stabilize Pakistan's economic imbalances and prevent a sovereign debt default. This blog post examines the implications of the IMF bailout and its potential impact on Pakistan's economy.
The IMF Bailout – A Lifeline for Pakistan
Overview of the Bailout Package
Pakistan's central bank has received $1.2 billion from the IMF as the initial installment of a $3 billion bailout package. The funds will serve as a policy anchor, enabling Pakistan to address its domestic and external economic imbalances. The bailout program is expected to attract additional financial support from multilateral and bilateral partners, ensuring fresh financing and the rollover of debts coming due.
You May Also Read
Addressing Economic Imbalances
The IMF's standby arrangement (SBA) aims to stabilize Pakistan's economy by curbing price pressures, implementing a tight monetary policy, and reducing external imbalances. The IMF projects a substantial decrease in inflation from 25.9% in fiscal year 2024 to around 16% towards the end of the period. The government has set a target of 21% inflation for fiscal 2024 and will work towards achieving this through a proactive and data-driven monetary policy.
Positive Market Response
Strengthening Currency and Sovereign Bonds
Following the IMF board's approval, Pakistan's rupee experienced a 1% increase to 274.5 per dollar in the interbank market. Additionally, sovereign dollar bonds saw significant improvement, with a 2027 maturity bond reaching a 10-month high of just over 53 cents on the dollar. Another 2024 maturity bond traded just under 80 cents, marking its highest value in over a year.
Boosting Investor Confidence
The IMF bailout and the support received from the UAE and Saudi Arabia have instilled confidence among investors. These financial commitments indicate external validation of Pakistan's efforts to implement fiscal discipline and address its economic challenges. Increased investor confidence can attract foreign direct investment, promote economic growth, and stabilize Pakistan's balance of payments.
Challenges Ahead
Maintaining Fiscal Discipline
To ensure the success of the IMF program, Pakistan must continue implementing stringent fiscal discipline measures. It includes maintaining a market-determined exchange rate, absorbing external shocks, and reducing external imbalances. By restoring growth and competitiveness, Pakistan can effectively strengthen its economic buffers and navigate future challenges.
Long-Term Economic Stability
While the IMF bailout provides immediate relief, Pakistan must focus on long-term economic stability. It involves implementing structural reforms, enhancing productivity, diversifying the economy, and attracting investment in sectors that foster sustainable growth. By doing so, Pakistan can reduce its dependency on external financial support and strengthen its economic resilience.
Conclusion
The arrival of the IMF's $1.2 billion bailout package marks a significant milestone for Pakistan's ailing economy. This financial support, coupled with recent assistance from the UAE and Saudi Arabia, offers a lifeline to the country, preventing a potential sovereign debt default. With a focus on fiscal discipline, curbing inflation, and implementing market-oriented policies, Pakistan can stabilize its economy, attract investment, and pave the way for sustainable long-term growth. However, it is crucial for Pakistan to remain committed to the reform agenda, ensuring the efficient use of funds and the implementation of structural changes necessary for economic stability.
Sapphire Builders & Associates recognizes the challenging financial situation Pakistan is currently facing. To address this, it is crucial for both the government and the private sector to collaborate and develop effective strategies aimed at attracting foreign investment to the country. Foreign investment plays a vital role in revitalizing the economy, as it helps regulate the market and creates numerous job opportunities. In contrast, relying solely on loans further burdens an already distressed economy. Real estate, a thriving industry globally, presents a promising avenue for investment in Pakistan. By making smart investments in real estate, not only can governments stimulate economic growth, but ordinary individuals can also uplift their financial standing.
Sapphire Builders and Associates is a renowned real estate company known for its client-centric policies and great work ethics. Our trademark projects include Opal Mall and Luxury Suites, Omega Mall, and Oak Vista Luxury Services Apartments. Investing in our projects can yield an impressive annual capital gain of 66.6%. These properties can be utilized for personal residence or business purposes, offering the added advantage of generating rental income through leasing. We take immense pleasure in serving our clients and seeing them get huge profits by investing in our projects.
For more information about our projects, please visit our website or check out our social media pages.