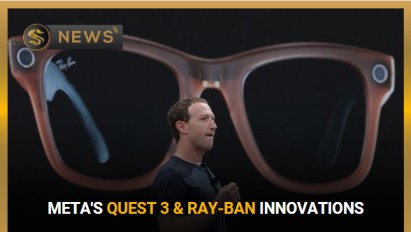 Share This Story, Choose Your Platform!
Meta's Visionary Leap: Introducing the Quest 3 VR Headset and Ray-Ban Smart Glasses
In the rapidly advancing tech landscape, Meta's latest innovations promise a seismic shift in how we perceive and interact with our surroundings. At the recent Meta Connect developer conference, CEO Mark Zuckerberg painted a picture of a future seamlessly blending the physical with the digital. Let's delve deeper into Meta's recent offerings and their potential implications in the tech world.
The Quest 3: Beyond Virtual Reality
Emerging as a successor to the Oculus legacy, the Quest 3 VR headset endeavors to surpass the boundaries set by its predecessors.
Noteworthy Upgrades:
– Superior Display:
With a 4K display, the visual representation is bound to be crisp, amplifying the realism in the VR experience.
– Enriched Audio and Field of View:
Improved spatial audio combined with an expansive field of view ensures an immersive experience, unparalleled by previous models.
– Mixed Reality Foray:
By allowing users to perceive their physical environment, Quest 3's mixed reality capability is revolutionary. However, with few apps exploiting this feature to its full extent, its potential remains largely untapped.
– Touch Controllers:
The upgraded touch controllers attest to Meta's dedication to providing an intuitive and responsive interaction for users.
– Pricing Dynamics:
Retailing at $500 for the 128GB variant and $650 for the 512GB version, it's positioned in a challenging bracket, given the consumer preference hovering between $250 and $499. The looming presence of Apple's Vision Pro, priced at a staggering $3,500, hints at a fierce battle in the VR domain.
You May Also Read
A Complete Guide to Metaverse Digital Real Estate
Ray-Ban Meta Smart Glasses: Wearable Tech Reimagined
Through their collaboration with EssilorLuxottica, Meta has unveiled its vision for smart wearable tech. The second-generation Ray-Ban Meta smart glasses are more than a gadget; they are a testament to futuristic design and functionality.
Enhancements to Spotlight:
– Audio and Camera:
Improved speakers coupled with a 12 MP ultra-wide camera ensures moments are captured and relieved with heightened realism.
– Efficient Power Management:
Powered by Qualcomm's Snapdragon AR1 Gen1 Platform, users can expect swiffer photo and video processing. The revamped charging case ensures up to 36 hours of uninterrupted usage.
– Design Versatility:
With over 150 frame and lens combinations via the Ray-Ban Remix platform, there's a style for everyone. Added benefits include water resistance and improved touchpad responsiveness.
– Streaming and AI Prowess:
The ability to live stream directly to platforms like Facebook and Instagram and the introduction of the conversational assistant, Meta AI, makes these glasses not just a wearable but a personal companion.
 Meta's Path Forward
Despite the technological advancements, challenges persist. The pricing strategy, especially for the Quest 3, might deter a segment of potential consumers. And while the Ray-Ban smart glasses address many critiques from their 2021 debut, questions of mainstream adoption and privacy concerns remain.
 Wrapping Up
Meta's unveiling of the Quest 3 VR headset and the Ray-Ban smart glasses showcases their commitment to pioneering the fusion of the real and digital worlds. As the market dynamics shift and competitors like Apple introduce their innovations, it remains to be seen where Meta's vision will lead them. One thing's for sure: the horizon of tech is shimmering with possibilities, and we're just getting started!