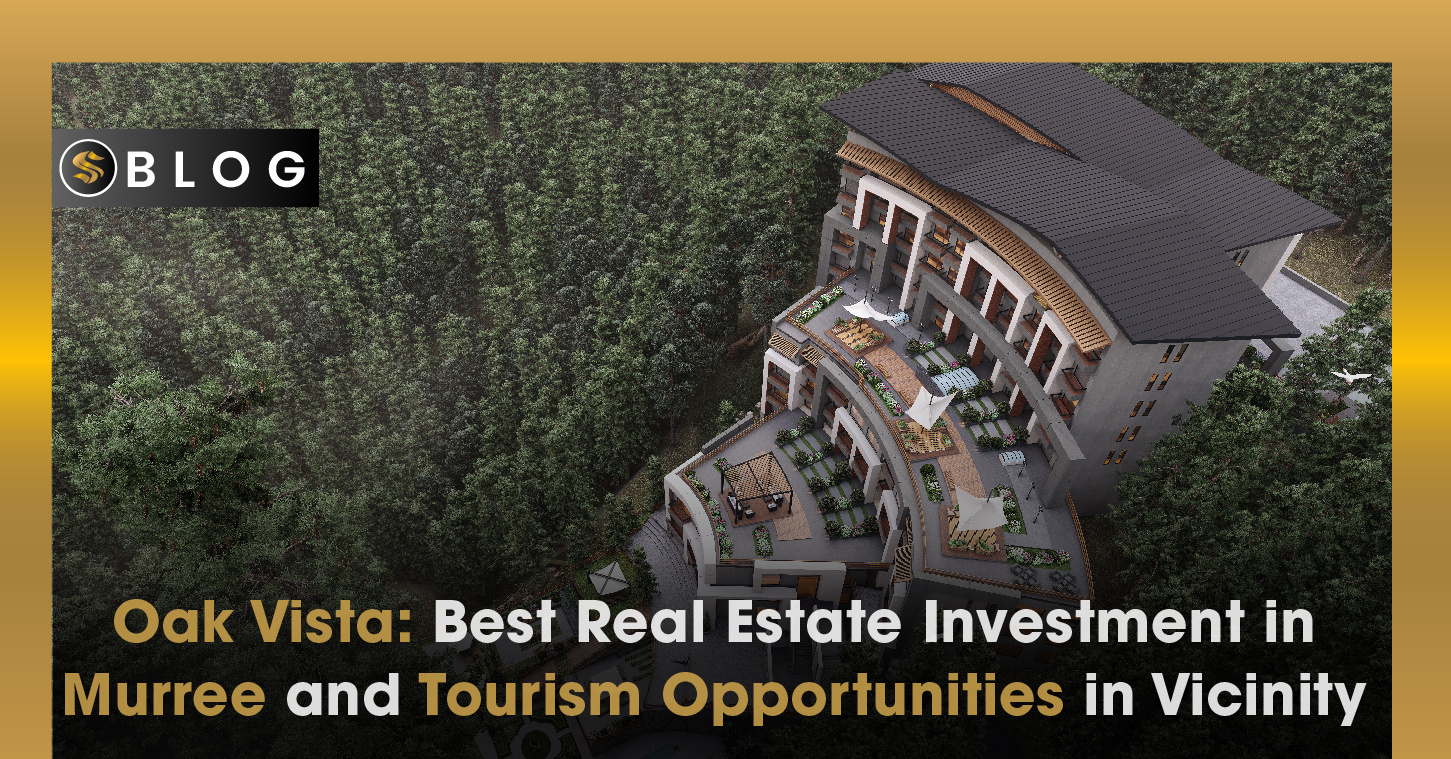 Share This Story, Choose Your Platform!
Oak Vista – Best Real Estate Investment in Murree and Tourism Opportunities in the Vicinity
Wouldn't you like to escape from the fuss and hastiness of city life and run away into the serenity of the mountains once in a while? Oak Vista Luxury Service Apartments and Suites is the best Real Estate Investment in Murree that provides you a splendid living experience amid the verdant hilly range, adaptable four seasons, and breath-taking views, making it an absolute dream come true.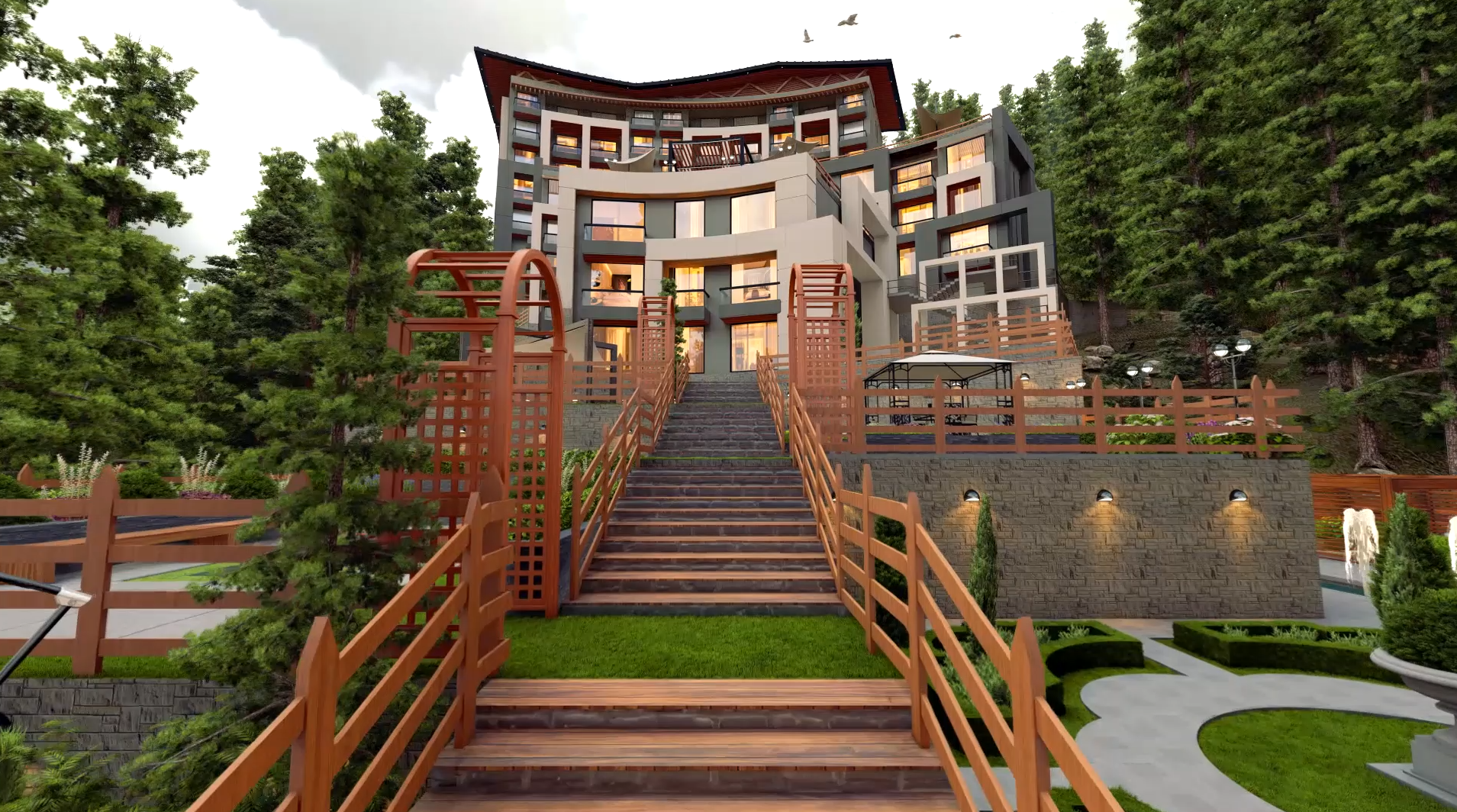 Oak Vista Luxury Service Apartments and Suites is an hour drive from the second most beautiful capital of the world, Islamabad. So it is the perfect location within reach and nearby Islamabad and Murree. This perfect property in Murree is in the vicinity of sports for tourists; 200 meters from the motorway, 300 meters from Lower Topa, and 400 meters from Mall Road. Your dream location is also close to Gloria Jeans, Second Cup, and McDonald's, a bonus point along with its perfectly attractive location. An irresistibly tempting back road that leads to the highway bridges where you can immerse in the magical aura of the green forest.
TOURIST PLACES IN THE VICINITY
Oak Vista provides you with the best Real Estate Investment in Murree. The serene and refreshing mountain drive offers you several nearby tourists spots to explore in Murree like:
The most popular tourist attraction is only 400 meters away from the Oak Vista Luxury Service Apartments and Suites. Mall Road, Murree is a popular tourist attraction, a street with a variety of shops with popular souvenirs, handmade artifacts, dried fruits, and who does not want to try the delicious dishes of the popular restaurants especially the fish and chicken karahi?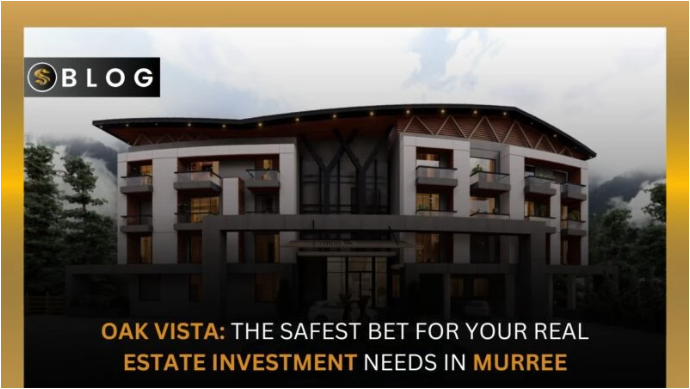 You May Also Read
Rooted in Trust: Oak Vista is the Premier Real Estate Property in Murree 
A place well known for its tranquility, is a fifteen minutes walk from Mall Road. You can go and hike up to the Kashmir point. It has a beautiful landscape. You can see Kashmir Mountains from there as well. Mobile coverage, accommodation, and medical facilities are also not a problem in this area. Oak Vista Luxury Service Apartments and Suites also presents the mesmerizing views of Kashmir Point . Grab this opportunity to enhance your living style in one of the best real estate investment in Murree.
Pindi point is one of the first spots that people like to visit, when in Murree. It is a popular tourist attraction because of its beautiful views of the mountains and eye-soothing greenery. Oak Vista Luxury Service Apartments and Suites also present this amazing view of Pindi Point. The reason it is called Pindi Point is that the whole city of Rawalpindi can be seen from there. The view is absolutely breathtaking.
There is a 1.5 km chairlift from Pindi Point to Bansara which has an excellent view along the way, with tall pine trees and lush green vegetation. Pindi Point is well equipped with cafes and playgrounds for children as well.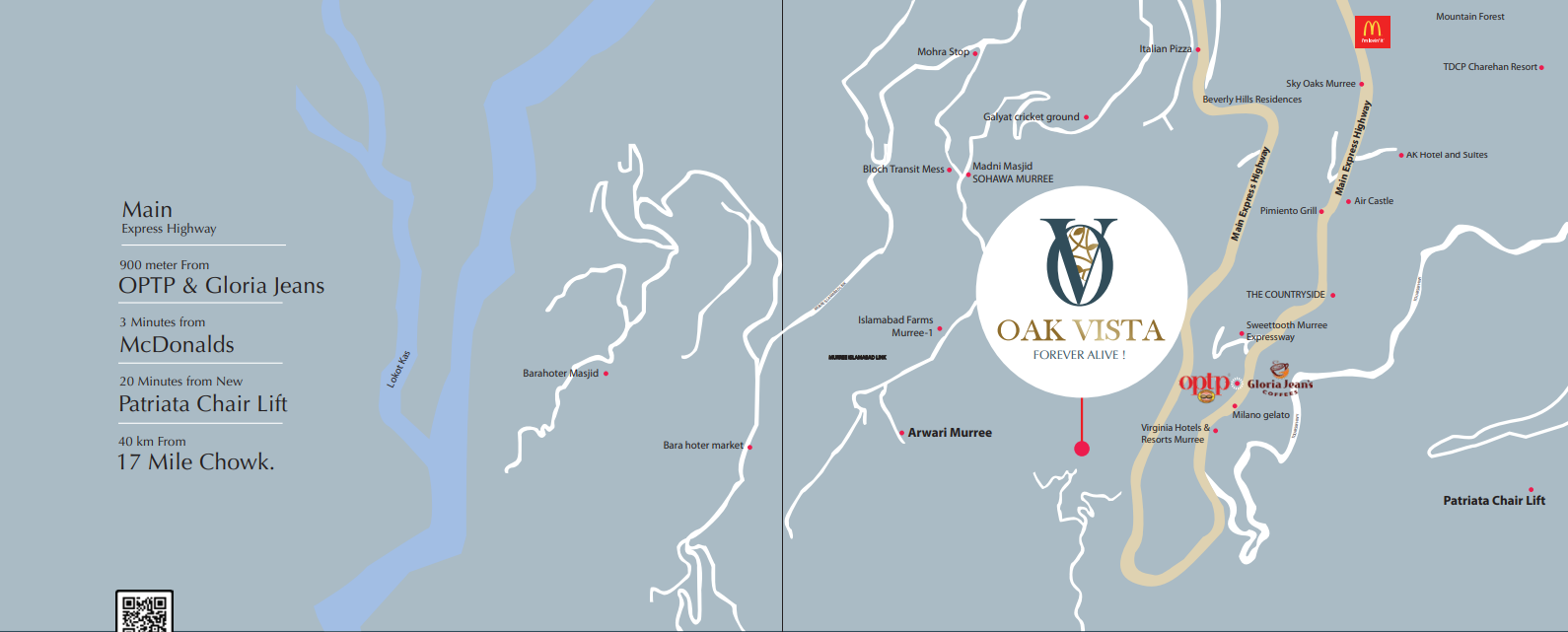 The most central and famous spot of Galyat is Nathia Gali, which is 35 kilometers equidistant from Murree and Abbottabad, at an altitude of 8400 feet. It offers excellent views and a beautiful view of the snow capped peaks of Kashmir and Kohistan on one side and the Potohar plain on the other. In the foreground, to the northeast, are the verdant slopes of Miranjani Mountain. Nathia Gali offers unspoiled natural beauty and stunning mountain views. It is located on the threshold of 9,779 feet of Miranjani and 9,258 feet of Mount Mushkpuri. On a clear day, you could see the towering hills of Nanga Parbat, with the Majestic snow.
Ayubia became the most important site in Galyat after Nathia Gali. In 1984, an area of 1,684 hectares of mountain forest was declared a national park, to preserve the beauty of the forest and its biodiversity. The elevation of Ayubia National Park ranges from 1.05 meters in the valleys to 3,027 meters on top of the mountain. These mountains are between 40 and 170 million years old.
The most important mountain resort in Galyat and the beauty of Changla Gali takes you to more colors and wonders with climate change. In summer, the whole city is moderately cold, and in winters there is heavy snowfall, the scenic beauty and long pine trees amaze the tourist.
New Murree is approximately 15 km from the main hill towards Lower Topa. It contains chair lift rides and cable car system, starting in new Murree and finishing in Patriata. It is a long 7 km journey. The breathtaking views of the pine forests and real views between Murree and Nathia Gali can be seen and savored from this open-air transport.
It's good to plan a trip with your friends and family in summers to avoid the rush of tourists by availing the best real estate investment in Murree, by Sapphire Builders and Associates. In winters the area is very crowded but the snow capped mountains, the cool breeze, and the view from the crest of the hills are worth seeing.
Ghora Gali is a half an hour drive from Murree therefore, it is one of the best places to visit in the vicinity of Murree. It includes a 1,100 meter long chairlift ride hiking from Ghora Gali to Pindi Point. In the pre-partition days, it also served as a destination for British troops. Built in 1860, Lawrence College has been serving as a shelter for orphaned children during the war. Murree Brewery was also established in the same year nevertheless, it got destroyed in the post-independence riots.
It is one of the perfect places for couples to visit in Murree because Bhurban is 20 minutes drive from Murree and half an hour from your dream Oak Vista Luxury Service Apartments and Suites, and almost an hour from the beautiful capital, Islamabad. Bhurban enjoys beautiful scenery and views of the valley and has a nine-hole golf course and easy access to a beautiful mountain path in the nearby Ayubia National Park.
Best Real Estate Investment in Murree
The breathtaking tourist spots near the vicinity are the plus point of this best real estate investment in Murree. Hence, do not forget to grab the opportunity and obtain an outstanding living experience by investing in the best property investment in Murree, Oak Vista Luxury Services Apartments. 
Along with Oak Vista Luxury Services Apartment, Opal Mall and Luxury Suites, and Omega Mall are the other visionary projects by Sapphire Builders and Associates. These projects are located in optimal locations and give high ROIs to investors. Sapphire Builders and Associates is a renowned real estate company known for its client-centric policies and great work ethics. We take immense pleasure in serving our clients and seeing them get huge profits by investing in our projects.
For more queries and details, contact info@sapphireassociates.com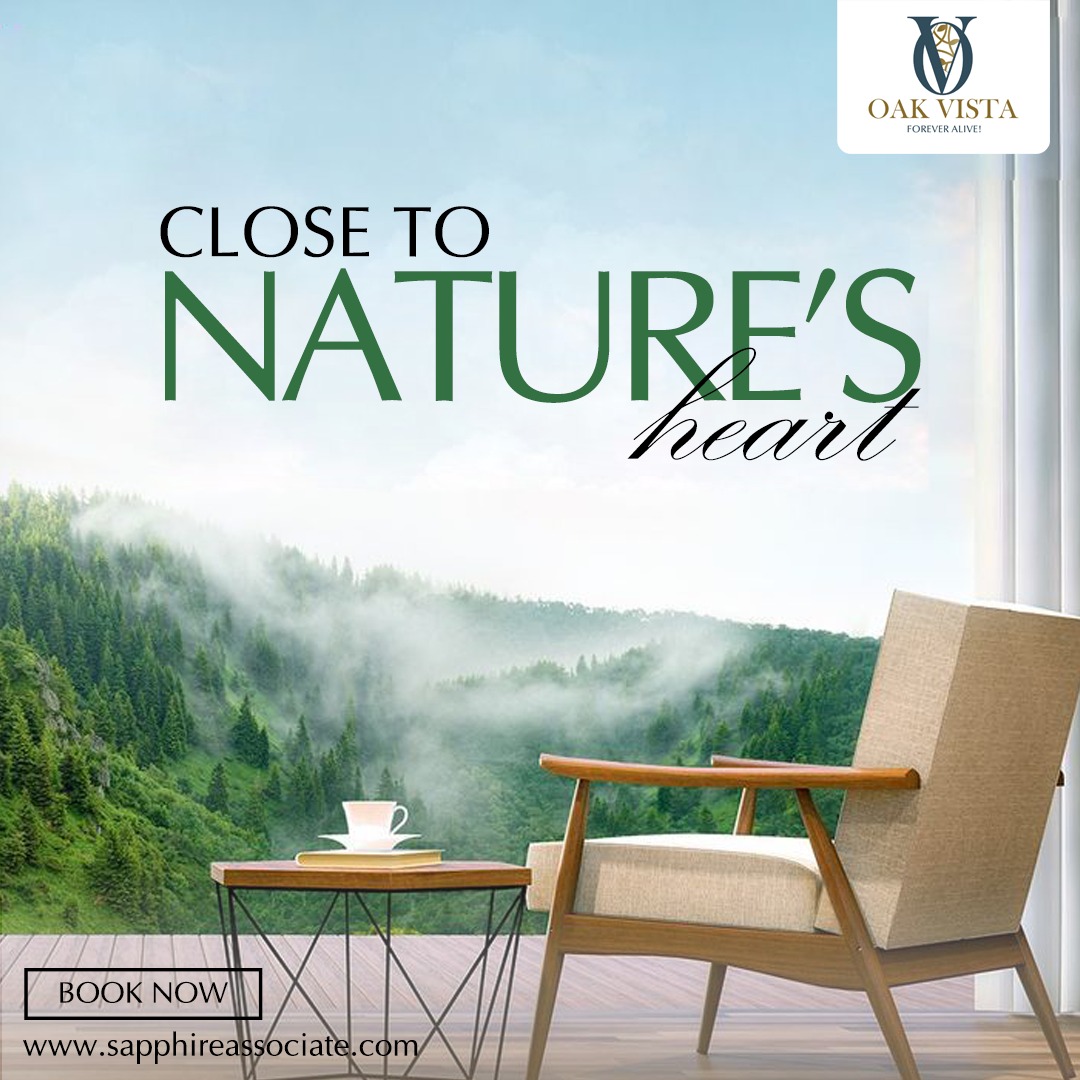 Let's Talk and Explore new Opportunities
If any of our personnel ask for cash payment, kindly call or inform directly at +92 515194417-8
or raise your complain to info@sapphireassociate.com