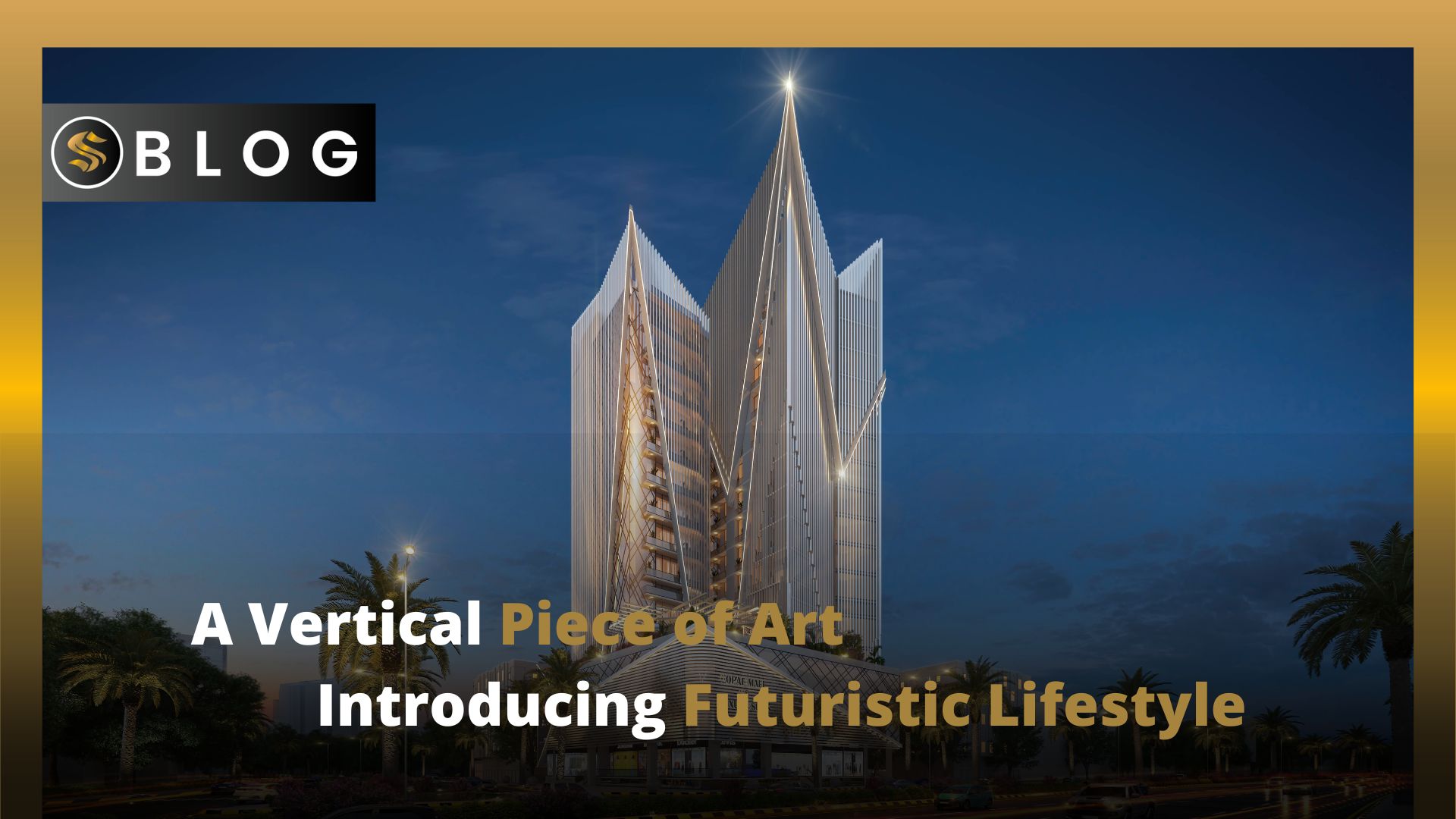 Share This Story, Choose Your Platform!
We are in the contemporary period of design which is a time when improvements in technology, development, building, planning, and execution have made it possible for international architects to make structures that are much better, faster, and taller like Opal Mall. Therefore, it is accurate to say here that sky is the limit. Every few months, a new story announces that the country's highest residential tower has broken yet another record due to its amazing height. Everyone wants his/her house to be lovely, in a good neighborhood, and to have all the comforts and amenities that they can afford.
In such circumstances, one begins to wonder if Pakistan's future residential growth would consist of sky-high structures. When deciding whether to build towering structures or not, developers are mostly influenced by location, population, and land prices. Some cities currently meet each of these requirements, while others may be on the verge of doing so.
Vertical housing is not a recent development. Urbanization and thriving, overcrowded cities have been its main drivers for decades. While the development of elevators, modern building materials, and structural engineering techniques made it possible to create high-rise structures, the multi-story buildings date back to the Roman Empire, and vertical cities have existed for millennia.
Bahria Town and the area around it have long been a hub for commercial activity. All year long, the area is alive with activity and may  feel to be a vibrant and prominent real estate building with a modern elevation and gorgeous appearance.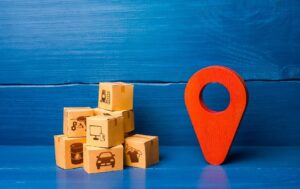 Opal Mall & Luxury Suites
Opal Mall & Luxury Suites, a premier high-rise building project by Sapphire Builders & Associates, is regarded as having the finest luxury flats in Bahria Town, Islamabad. A master-planned community development project has gained enormous notoriety in Pakistan. Being a high-return investment, Bahria Town Islamabad projects soon gained popularity among people looking to invest in real estate. The meticulously thought-out project fulfills all the requirements for being a lucrative real estate investment option.
Problem of location is the next one. Every city's population is mostly concentrated in slums, which are typically dispersed throughout the countryside and far from the city's commercial district and employment centers. It is undeniable that many people relocated to these locations in search of greater economic opportunities, while others had to battle traffic to get to their places of employment. The Development Authorities have been working on a variety of housing projects that will transform the city's housing landscape and bring more people closer to urban areas, which is worth mentioning here.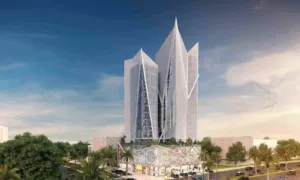 Reasons to Follow the Trend of Building High-Rises
Space is necessary when urbanization becomes a crucial component of modern existence. Building vertically is significantly more practical for cities than spreading out horizontally. It is easier for the governing bodies to handle the needs of a growing population when this is a significant component of managing city infrastructure.
Skyscraper Design and construction require making livable safe places in extremely tall structures and utilizing spaces intelligently. The structures must be able to hold their own weight, withstand wind and earthquakes, and safeguard occupants from fire. However, they must also be easily accessible even on higher floors, and must offer residents the utilities and a comfortable environment. Given the delicate balances between engineering, economics, and construction management, skyscraper design issues are among the most challenging yet worthwhile in terms of architectural landscape usage.
Sustainability
The word "sustainability" has evolved from a fad to a necessity, in recent years. In the context of high-rise buildings, sustainability includes the built and natural environments, as well as the functionality of structures, the types of materials used, construction techniques, the strictest possible conservation of materials and natural resources, energy used inside the structure, and a system integrated approach to building a design.
Economic gain, resource efficiency, environmental preservation, and social growth are all aspects of sustainability. Building codes that have been carefully crafted today prioritize sustainability. Building committees to establish sustainability and environmental norms, is a widespread practice for local and national government. These codes must consider both business and sustenance. An internationally known green construction standard that has gained widespread support is the LEED Certification. Let's talk about how Opal Mall stands out from the rest and what can you expect.
Prime Location
Location matters the most and Opal Mall is located in Bahria Town Paradise Commercial Complex, Islamabad, Plot No. 95-F, which is a prime location. Opal Mall's location is just 300 meters from Phase 4, GT-Road's main entrance, making it convenient for our customers to access all amenities of modern life.
Numerous Options
The Luxury Suites include two opulent penthouses as well as one or two-bedroom apartments that have been thoughtfully created. Each apartment's 13-feet ceiling will be adorned with high-end furnishings, laminated floors, elegant bathroom fixtures, firefighting supplies, smoke detectors, and automated sprinkler systems.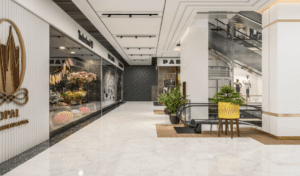 Opal additionally, features two corporate floors for offices and four commercial floors for retail establishments while three basement floors are being used for parking.
World Class Amenities
Opal Mall offers top-notch amenities including a food court, state-of-the-art firefighting equipment and climate control, high surveillance and monitoring systems, top-class escalators, a huge 63-feet atrium from the ground to the second floor, renowned brands on commercial floors, apartments with plenty of natural light, spacious rooms with 13-feet ceilings, and ultra-modern kitchens with branded fixtures.
Modernized Technological Infrastructure
Utilizing modern technologies is important thus, Opal makes use of perforation and louver technology. We ensure that the quality is maintained from the beginning to the completion of the project, using a three-tiered monitoring process. Large Lifts and Automobile Parking. With the customer's satisfaction in mind, we are providing large lifts and car parking area in our project.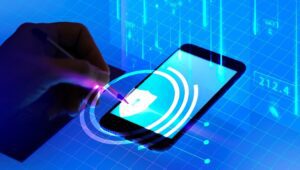 Payment Plan
Sapphire Builders offer many flexible payment options. Nevertheless, you must put down 30% of the entire cost to buy a house. To satisfy our customers' needs, we provide a personalized installment plan as well.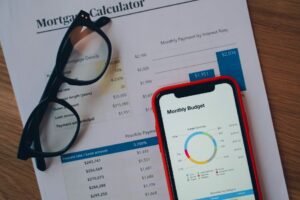 Reserve Your Unit Before its Gone!
A unique address for you, Opal Mall and Luxury Suites is a wonderful project from Sapphire Builders and Associates, with the benefits of a prime location, corporate offices, and upscale shops.  It will undoubtedly surpass the standard and emerge as a mall of prosperity. So, reserve your property now before it is too late and secure your Future now.