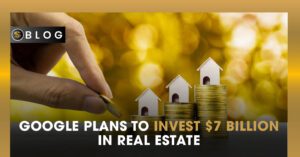 Share This Story, Choose Your Platform!
The real estate sector is often slower in adopting new technologies compared to the other industries. The old school of buying and selling real estate and many unique variables included in each transaction, serves as a0 barrier to innovation. In recent years however, technology has played an increasingly important role in the Real Estate Property sector, from technology companies offering efficient credit applications to credit rating agencies that have hired human appraisers who have the technology to help address staff shortages.
The real estate sector relies heavily on tenants, developers, and investors who venture into an area that has not been there before. It is therefore, not surprising that Tech Companies find useful applications in the Real Estate property sector and help visualize buildings and architectural models.
Sapphire Builders & Associates have gathered some information regarding the investment of google in real estate property. We will provide you important information regarding investment plans for Google.
How Tech Companies are Investing in Real Estate?
Large technology companies are expanding their real estate portfolios across the United States and abroad due to a growing appetite for data centers, expanding employees, and a number of local tax incentives. Large real estate acquisitions allow them to differentiate themselves from their core business and have transformed large technology companies into real estate investment sub-companies with knowledgeable CRE experts.
The year 2021 marked the fastest economic recovery the US has experienced in the last four decades.
As a result, inflation peaked in 1970s and markets have polarized due to the need to raise rates to curb price growth, rather than continuing to stimulate the economy to achieve and maintain full jobs.
Meanwhile, real estate standards have accelerated beyond expectations, with a 20% rental growth typically found in many U.S. housing and industrial markets and tied rates at low levels.
As a result, the yields in 2022 are expected to be at their highest level since 2010.
Within months, the world economy was at the center of a typical economic cycle.
The research predicted modest economic growth and tighter monetary policy with significant changes around the world related to COVID options and advances in immunization, government policies, different growth drivers, and geopolitical risks.
Real estate standards followed with a modest increase in rents in short term and the possibility of flat to slightly higher capital rates in some markets and sectors, were expected. Google, a tech giant has largely been investing in the real estate property sector, we will tell you how Google is expanding its portfolios across American markets.
GOOGLE INVESTMENTS
Google is not ready to leave the traditional workplace as a major technology company recently announced that it plans to spend more than $ 7 billion on the US offices and data centers.
"Personal collaboration for community building is at the heart of Google's culture and will remain an important part of our future," said the CEO, Sundar Pichai in an interview. He further added that "That's why we continue to make significant investments in our offices across the country."
The Year 2021 and Future Plans
The investment plans sped across 19 states, including $ 1 billion in the California trading state, alone. In addition to new offices in Seattle, Houston, Mississippi, and Oregon, CEO also hinted toward data center expansion in Nebraska, South Carolina, Virginia, Nevada, and Texas. Forbes estimates that Google's existing real estate holdings are worth over $50 billion. The business has recently gone on a bit of a real estate spending binge. In November 2018, Google revealed that it was spending $100 million on a 21-acre "mega campus" in San Jose, California, not too far from its Mountain View Headquarters, the Googleplex.
A month later, it made the announcement that it would invest $1 billion in a new campus in Hudson Yards, Manhattan and that it had leased a 35-story office building in Austin. However, Google's parent firm, Alphabet, halted real estate spending last year as a result of the pandemic, according to Bloomberg. According to one announcement, the business is prepared to resume operations in a strict sense. He denied a permanent remote strategy in a staff message in December, despite Twitter and Facebook indicating that workers may be permitted to work from home indefinitely.
Although Twitter and Facebook suggested that employees could be able to work from home indefinitely, Google disputed a permanent remote approach in a statement to the team in December. "In-office collaboration will be just as vital to Google's future as it has been to our history," CEO wrote in the memo. The ongoing uncertainty in many regions has led to a number of intriguing challenges. The company is also developing innovative office layouts, including outdoor spaces, presentation booths, bookable collaborative spaces, and floating desks. It makes sense that companies like Google, which rely on employee interaction, won't abandon the office.
GOOGLE AGENDA
Google's Agenda for the Real Estate Sector includes creating a Vibrant and Inclusive place that will lead towards sustainable designs that will as result, mutually benefit local communities and Google. It Aims to constantly strive to build incredible spaces where Google can collaborate and produce their best work. Although each project is distinct, they all have some similar objectives. Google constantly aims to provide the greatest workplace possible, construct structures sustainably, and be a good neighbor.
Google Real Estate Investment focuses on three important areas:
Creating An Ideal Workplace
Google focuses on designing workplaces that enhance belonging, collaboration, productivity, and well being; aspects of the work environment that have always been central to Google's workplace philosophy. Each workplace, regardless of size, is created to promote creativity, big ideas, and community. In certain places, Google is considering things outside of the workplace and daily life. A Real Estate Property by creating walk-able neighborhoods in the Bay Area with bold climate solutions, all-encompassing natural settings, and a variety of uses that will enhance social cohesion.
A Considerate Neighbor
Google's main reason for investing in real estate property is to explore new ways for a stronger community for its members, from google.org strategic grant-making to commitments to increase opportunities to the economic effect of their presence. In mixed-use projects, it frequently worked with neighborhood nonprofits, establish fresh public spaces, and interact with neighborhood organizations to better comprehend local opportunities and difficulties and co-create designs.
Sustainable Construction and Operations
By 2030, Google wants to revolutionize and be the first significant business to run entirely on carbon-free energy. It is incorporating sustainability into everything it does, to get there. In order to achieve this, Google is incorporating circularity concepts into the real state property designs of all new projects, promoting the creation of healthy environments, and advancing carbon-free tactics such as onsite renewable energy generation.
KEY TAKEAWAYS
The tech company Google, has already pledged over $35 billion in investments across 26 states, creating over 40,000 new jobs for Americans.
One of the largest and richest Internet companies on earth Google, has revealed its intentions to invest an incremental $9.5 billion in the United States this year.
The company aims to encourage local economies and digital tools that enable people and businesses to flourish, particularly in this age of the new status quo.
Google in contrast to its already established hubs and facilities in numerous regions of the nation, has offices and data centers that support local economies and acts as an important anchor for such regions.
Local residents have steady jobs, thanks to the presence of a Google office or center. The Internet business has already made more than $35 billion in investments over the last five years in only 26 states.
The companies have more than 40,000 full-time employees throughout more than half of the states in the union. That doesn't include the supplementary $40 billion.
Not included in that amount is more than $40 billion it spent on US research and development in 2020 and 2021. 12,000 more Google jobs are anticipated to be created as a result of the increased funding, in addition to even more jobs for regional suppliers, partners, and communities.
Now, some of you might be questioning why Google would invest in physical buildings at this time given the transition to remote work and more flexible working arrangements. Smart people should lead Google, right? Isn't Google acting a little counterintuitively here? It's not! In fact, Google believes that by establishing physical campuses and Investing in real estate properties, they would be able to stabilize the local economies through the employment they bring about. There can be both direct and indirect effects on the company's existence.
Google alone contributed $617 billion in economic activity to the national economy in 2021. In the first year of the pandemic, about two million jobs were established by Android apps, while 394,000 people were maintained by YouTube (content providers as well as its partners). The beautiful thing about all this development is that it not only creates more jobs for people but also improves the digital tools that support successful businesses, entrepreneurs, and individuals.
What does it mean for Real Estate Investors?
Google is looking at several different locations to bring their business to. Just a few of the ones on their list are as follows:
New York NY
Pittsburgh PA
San Jose CA
Portland OR
Seattle WA
Storey County NV
Henderson NV
Austin TX
Reston VA
Pryor OK
Council Bluffs IA
Future of Real Estate Property Sector
These places are anticipated to take off once the global icon begins to implement its ambitions, particularly anything involving real estate. Since Americans are still yearning for better employment possibilities today so, the number of jobs it will create in the future due to its Real Estate Investments will lead to an increase in immigration to each place. Investors in real estate should be wise to keep their radars on high alert and begin looking for potential lucrative deals. While traditional rental properties now show the most promise, Airbnb business may be performing well in the aforementioned locations (especially the larger and more populated cities).
Smart investors will undoubtedly do their analysis on the highlighted places to determine the profitability of the project if they were to purchase investment homes there. Locating a possible rental property, gathering the relevant information, and estimating its profitability. Real estate property investing is all about reputation and there are several instances of outstanding real estate companies delivering on their obligations and finding success at their doorstep.
As we all know, purchasing real estate usually involves individuals depositing their entire net worth in order to purchase a home for a later phase. As a result, they should take more care while choosing and making decisions before investing. They should look for dependable companies or individuals whom their family or friends have already made investments and are happy with them. In the context of Pakistan, there are many reputable real estate companies and Sapphire Builders & Associates is among those companies.
Below is a list of the specific projects that Sapphire Builders & Associates has worked on.
The Oak Vista Residential premium service apartments, which have amazing architecture and provide studio, one and two-bedroom apartments in a rustic style, are a noteworthy development in the lovely Murree Valley. Oak Vista is the ideal vacation home because of the enormous pine trees that surround it.
The luxury suites in Opal Mall & Luxury Suites, another prominent development, is situated in Bahria Paradise Commercial and offer office space, condominiums, and retail shops. Modern architecture, state-of-the-art amenities, and superior construction techniques are all found in a 21-story structure. In order for you to have the knowledge necessary, Sapphire Builders & Associates has made an attempt to educate you on the topic of real estate.